Italy Senate expels 3-time ex-Premier Berlusconi over tax fraud conviction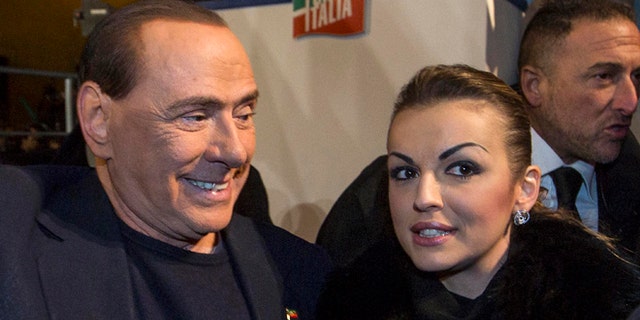 ROME – The Italian Senate on Wednesday expelled three-time ex-Premier Silvio Berlusconi from Parliament over his tax fraud conviction, ending his two-decade legislative run for now, but not his political career.
Berlusconi has warned that the unprecedented move would embarrass Italy internationally, and he maintained his defiance even as the Senate voted, addressing a cheering crowd outside of his Roman palazzo a short walk away.
"We are here on a bitter day, a day of mourning for democracy," Berlusconi declared.
Even though he won't hold a seat in Parliament for at least six years, the 77-year-old Berlusconi pledged to remain involved in politics and urged his followers not to despair — noting that other political leaders are not lawmakers. He has relaunched his Forza Italia party and he still commands millions of loyal supporters.
"Also from outside the Parliament, we can continue to fight for our liberty," he said, citing the founder of the 5 Star Movement, Beppe Grillo, who is not a lawmaker, and Matteo Renzi, the Florence mayor who is a Democratic Party star widely tipped as a future premier candidate.
Supporters, including Berlusconi's 28-year-old girlfriend, who had a Forza Italia flag wrapped around her shoulders against the cold, were treated to a video montage of Berlusconi's greatest political hits from a career that began in 1994 when he first came into power with a political party named for a soccer chant "Let's Go Italy."
"For us, he will always be there," said Marilda Antonello as she held a banner reading "The law is not equal for everyone. Sick justice."
"He is our only leader. He is the only man who can take Italy forward," she said.
The Senate vote on whether to remove Berlusconi from the chamber stems from a 2012 law that bans anyone sentenced to more than two years in prison from holding or running for public office for six years. His lawyers claim the law is unconstitutional and have questioned why the rush to expel him while legal challenges are still pending.
Italy's high court on Aug. 1 upheld Berlusconi's tax fraud conviction and four-year prison term stemming from his Mediaset empire's purchase of television rights to U.S. films.
The prison term was reduced automatically to one year under a general amnesty; he will serve his time either under house arrest or through public service.
Berlusconi claims he didn't receive a fair trial and that the judges were biased and out to "eliminate" him from public office.
Berlusconi's lawyers have taken their challenge to the 2012 law to the European Court of Human Rights — even though it turns out Berlusconi didn't make much of his Senate role to begin with: Private TV La7 reported this week that Berlusconi attended just one Senate session since April's elections. And that was when he did an about-face and backed the government in a confidence vote after threatening to bring it down.
Nevertheless, Berlusconi made a last-ditch bid to save his seat this week, sending a letter to opposition senators warning them that kicking a three-time premier out of public office would tarnish Italy's image abroad and weigh on their consciences, "a responsibility that in the future will shame you in front of your children, your electors and all Italians."
Berlusconi remains head of his relaunched Forza Italia party, which on Tuesday officially withdrew its support of the government of Premier Enrico Letta and is now in the opposition.
Despite the switch, Letta's government comfortably survived a confidence vote early Wednesday and passed the annual budget. He survived because Berlusconi's one-time political heir, Angelino Alfano, split from his mentor earlier this month and formed his own new center-right party that remains loyal to Letta.
Analysts said they expected Letta's government — a hybrid of his Democratic Party and Alfano's New Center-Right — would continue in the short term.
The opposition, however, now includes two strong leaders: Berlusconi and Grillo, whose populist 5 Star Movement encapsulates the discontent many Italians feel with the country's byzantine politics.
"Berlusconi by himself doesn't have the strength to bring down Letta's government, but he's going to make it more difficult for the Democratic Party to stay in the majority," said Giovanni Orsina, deputy director of the school of government at Rome's LUISS University. "I think Silvio Berlusconi can do some damage to this government."
Meanwhile, Berlusconi still faces other legal problems, including a seven-year prison term and lifetime ban from holding public office for his conviction of paying an underage prostitute for sex at his infamous "bunga bunga" parties and trying to cover it up. He has professed his innocence and plans to appeal.