Italian police arrest terrorism suspect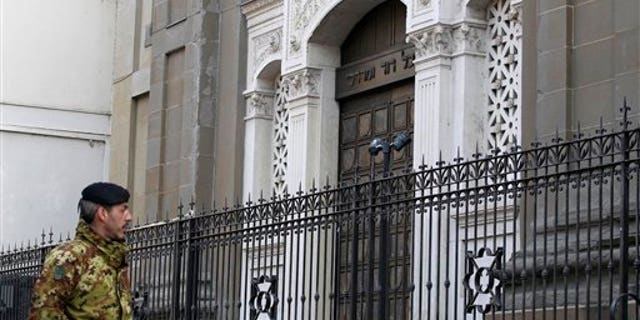 MILAN – Italian police arrested a Moroccan man early Thursday on suspicion of plotting an attack against a Milan synagogue after observing that the suspect had used a Google maps application to case security there, authorities said.
The chief suspect, identified only as a 20-year old worker who had lived in Italy since age 6, was arrested in the northern city of Brescia, 60 miles east of Milan. Meanwhile, in Britain, Scotland Yard detained a 40-year-old woman who had been in contact with the suspect to determine if she played any role in the alleged plot.
Brescia Police Chief Lucio Carluccio said anti-terrorism investigators identified the suspect from Internet traffic, including a Facebook page on how to assemble explosives and references in other contexts to holy war, or jihad, a term often used by Islamic extremists against the West.
The suspect had been under investigation for several months, but police moved to arrest him after noting that he was using a Google maps application to zoom in on areas around the synagogue in a way that suggested he was casing the security, not browsing casually, Carluccio said.
"There were a series of clicks to zoom on a police car, and to zoom on the anti-sabotage columns" placed outside the synagogue, Carluccio said.
Authorities confiscated two flags emblazoned with Nazi swastikas at the suspect's residence, along with computers, USB drives, detailed descriptions of how to build a car bomb and the quantities of chemicals needed to make an explosive, he said.
Carluccio said that the suspect appeared to have taken pains to avoid scrutiny, not associating with Islamic fundamentalists and urging users of his Facebook page not to post religious material.
"He paid a lot of attention to his behavior to avoid that anyone would become suspicious," Carluccio said.
In Britain, Scotland Yard said the 40-year-old woman was detained in the early hours of Thursday morning on suspicion of collecting information useful to terrorism. Authorities were searching the residence where she was arrested, and Scotland Yard was in contact with Italian authorities to determine if there was a link between the woman and the alleged plot. Her possible role was unclear.
Italy's interior minister, who is in charge of security services, played down any "particular alarm" about terrorism but said the arrest of the Moroccan was a "very serious activity."
"It was a well done operation in which our police forces worked very well with international bodies," Anna Maria Cancellieri told reporters.
The arrest warrant for the Moroccan was issued by authorities in Sardinia, who first identified the suspect in the course of another investigation.