Hamas accepts cease-fire deal as Israel holds firm against terror group's threats
The militant groups under siege by a devastating series of Israeli airstrikes in the Gaza Strip announced Tuesday they've accepted an Egyptian-mediated cease-fire -- just minutes after reports emerged the Jewish State resolved to continue its bombardment "as necessary."
The terrorist group Hamas and smaller armed groups announced the cease-fire in a joint statement late Tuesday, the Associated Press reported, but its immediate terms were not clear. Israel also has not responded.
Moments before the deal was announced, Israel's Security Cabinet instructed its military to continue pounding Gaza with airstrikes – defying warnings of retaliatory attacks from Hamas.
The declaration Tuesday had come following a six-hour meeting with Prime Minister Benjamin Netanyahu, according to the Times of Israel. Hamas had been warning that it will carry out more strikes on Israeli cities if the devastating aerial campaign on its territory persists.
Israel's military has destroyed a number of Hamas's buildings in recent days, including a television station that the group is said to have relied upon to broadcast propaganda to its supporters. The Gaza-based militants, in response, have been firing rockets back into Israel, one of which killed a man after striking a structure in the southern coastal city of Ashkelon.
The spokesman for the Hamas military wing, identified only as Abu Obeida, told the Associated Press on Tuesday the deadly attack on Ashkelon showed the conflict "has entered the range of fire as a response to the bombing of buildings in Gaza."
He added Ashdod and Beersheba "are the next targets if the enemy continues bombing civilian buildings." School already was canceled Tuesday in large parts of southern Israel and a local election was postponed amid fears of further attacks.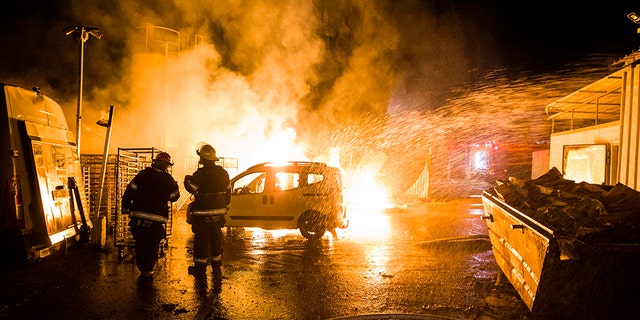 The violence began late Sunday during a botched covert Israeli raid into Gaza -- and marked the most serious escalation since an Israel-Hamas war in 2014.
Undercover troops, apparently on a reconnaissance mission, were discovered there, setting off a battle that left seven militants, including a Hamas commander, and a senior Israeli military officer dead, according to the Associated Press. Hamas then starting firing missiles into Israel, so far wounding at least 30 people, medical officials say.
The Israeli military said Tuesday some 400 rockets and mortars have been launched overall from Gaza since Monday afternoon, with about 100 of them intercepted by Israel's Iron Dome defense system.
Israel has been responding to the rockets with air strikes of its own on the Gaza Strip. Lt. Col. Jonathan Conricus, a military spokesman, said Israeli forces were focusing on facilities belonging to the two main Gaza militant groups behind the rocket attacks — Hamas and Islamic Jihad.
Israel's military says it has hit around 100 targets, as well as several "key strategic" Hamas facilities, such as military compounds, rocket launching posts and part of its vast underground tunnel network. Also amongst the targets was the television station and a Gaza City building serving Hamas' military and intelligence forces.
"The TV channel broadcasts violent propaganda against the State of Israel and its civilians, and provides detail on methods and instructions how to carry out attacks against civilians and IDF soldiers, how to obtain weapons and how to disrupt the IDF's activities to locate terrorists," the Israeli Defense Forces said in a statement.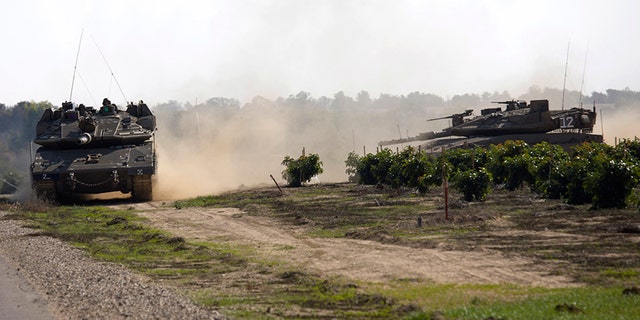 Gaza's Health Ministry says the airstrikes there have wounded at least 25 people.
Over the past few months, the two sides have come close to a major escalation several times, only to step back in favor of giving Egyptian mediation a chance.
The Associated Press contributed to this report.