Hamas launches dozens of rockets into Israel in retaliation for deadly military operation in Gaza
Hamas said it launched several rockets toward southern Israel on Monday in retaliation for an Israeli military operation the day before in Gaza, igniting a new round of fighting near the Gaza Strip in what appeared to be the most intense exchange of fire since a 2014 war.
Palestinian officials said at least three people, including two militants, were killed by Israeli fire and nine were wounded, and an Israeli airstrike destroyed the ruling Hamas group's TV station. In Israel, the national rescue service said at least seven people were wounded, including a 19-year-old soldier who was in critical condition.
Around sundown on Monday, militants launched some 100 rockets in less than an hour, the most intense barrage since the 50-day war four years ago. The outgoing rockets, which continued into the evening, lit up the skies of Gaza and set off air raid sirens throughout southern Israel.
The military said warplanes, helicopters, and tanks had struck over 30 militant targets, including military compounds, observation posts, and weapons facilities. It also said it targeted a squad that was launching rockets.
Late Monday, an airstrike destroyed the Gaza City headquarters of Hamas' Al Aqsa TV station. Israel had fired warning shots ahead of the airstrike, prompting the station to halt programming and replace it with a logo. Minutes later, the airstrike flattened the three-story building and the station went black.
Workers had evacuated the building after the warning shots, and there were no immediate reports of casualties.
Hamas spokesman Fawzi Barhoum condemned the bombing as "a barbaric, brazen aggression." Ten minutes later, the station resumed broadcasts, airing prerecorded national songs.
Israel said the station "broadcasts violent propaganda" and provides "operational messaging" to militants.
Hamas and the smaller militant group Islamic Jihad said the rocket fire was revenge for Sunday night's Israeli incursion. Islamic Jihad spokesman Daoud Shehab said the groups wanted "the occupation and its supporters know that the lives of our sons come with a price."
In all, some 300 rockets were fired into Israel by mid-evening, the army said. The Israeli military said it intercepted 70 rockets, and most of the others fell in open spaces. But rockets landed in the southern Israeli town of Sderot, setting off a large fire near a shopping center. Another rocket landed near a factory, and several homes were hit in southern towns.
A senior Hamas militant and an Israeli soldier were among those killed in the operation Sunday. The terror group's armed wing, the "Qassam Brigades," claimed Israeli undercover forces in a civilian vehicle infiltrated two miles into Gaza and fatally shot one of its commanders, later identified as Nour el-Deen Baraka.
Hamas said militants discovered the car and chased it down, prompting Israeli airstrikes that killed "a number of people." The Palestinian Health Ministry said six people, including at least five militants, were killed and seven others wounded. In Israel, the military said it had intercepted two rockets fired from Gaza as air raid sirens continued to sound.
Israeli media reported that Baraka was closely involved in Hamas' tunnel program, which the group uses to smuggle arms and supplies out of the Gaza Strip as well as conduct attacks inside the Jewish state. An Israeli Defense Forces spokesperson said the aim of the mission did not involve killing anyone.
"The special operation yesterday was not intended to kill or abduct terrorists, but to strengthen Israeli security," the @IDFspokesperson verified account tweeted. "The force waged a heroic and very complex battle and was able to exfiltrate in its entirety. We salute the bravery of Lt. Col. M. and his peers."
On Monday, Hamas fired several rockets into Israel. Israel's Iron Dome rocket defense system was heard deploying. Photos and videos on social media showed the rockets inbound.
A 19-year-old man was critically wounded in one explosion in southern Israel, Israeli medics said. The man apparently sustained the wounds in a mortar attack that struck a bus.
Black smoke could be seen billowing into the area of the mortar strike.
"In response to yesterday's crime the joint command of Palestinian factions announce the beginning of bombardments of the enemy's settlements with scores of rockets," Hamas said in a statement.
Israel said it's fighter jets were conducting strikes against "terror targets" in the Gaza strip.
Sunday's exchange of fire came as Israel and Gaza's Hamas rulers appeared to be making progress toward an unofficial cease-fire.
Israel last week allowed Qatar to deliver $15 million to Hamas, while Hamas scaled back its weekly demonstration along the Israeli border.
The payment is part of what is expected to be a set of informal understandings between Israel and Hamas reached through Egyptian and U.N. mediation.
Hamas is demanding an expansion of the permissible fishing zone off the Israeli-controlled Gaza coast, uninterrupted flow of fuel to mitigate chronic power shortages and the lifting of Israeli restrictions on exports and imports. In return, Israel wants quiet and an end to the border protests.
Israeli Prime Minister Benjamin Netanyahu told reporters Sunday that the money was "the right step" at the moment, and that he was committed to restoring quiet along the Israel-Gaza frontier and preventing a humanitarian crisis in the coastal Palestinian territory.
Later, at a press conference in Paris, when asked about his longer-term vision for Gaza, Netanyahu said there could be no political resolution as long as Hamas is in power.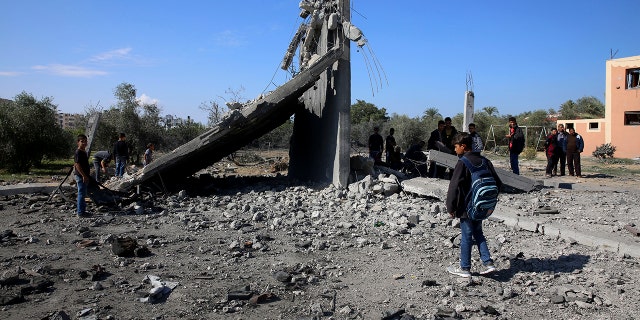 Fox News' Frank Miles and the Associated Press contributed to this report.