Israel, Palestinians accept new 72-hour cease-fire offer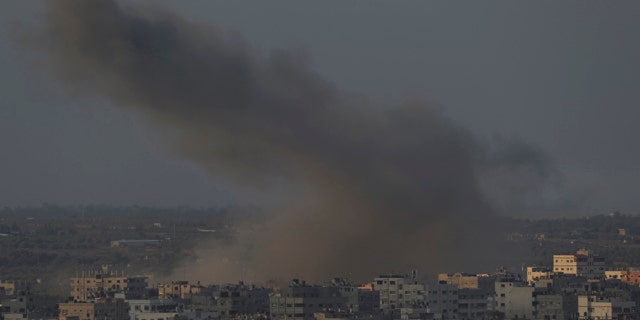 Israel accepted an Egyptian proposal Sunday for a new 72-hour cease-fire with Gaza militants.
The move clears the way for the resumption of indirect talks on a long-term cease-fire arrangement in Hamas-ruled Gaza after a month of heavy fighting.
Egypt brokered a similar truce last week. But after the three-day window, militants resumed rocket fire on Israel and new fighting erupted.
The Israeli officials, speaking on condition of anonymity because they were not authorized to talk to the media, said they accepted Egypt's latest offer Sunday. But they said they were wary after last week's breakdown.
Palestinian negotiators said earlier Sunday they accepted the Egyptian proposal for the cease fire.
The officials, representing various Palestinian factions, spoke on condition of anonymity because they were discussing sensitive negotiations.
Egypt called on Israel and Palestinian factions to observe the cease-fire beginning within hours, and to resume talks on a more comprehensive Gaza agreement.
A statement from Egypt's Foreign Ministry said the cease-fire would begin at midnight Cairo time (2101 GMT) and would create the atmosphere to resume humanitarian aid as well as indirect talks, through Egypt, to reach a more lasting and comprehensive cease-fire.
Israel walked away from negotiations over the weekend after rocket fire resumed, saying it would not negotiate under fire.
Earlier, Hamas refused to extend the temporary truce that helped launch the Cairo talks last week, saying it wants guarantees from Israel first that Gaza's borders will open. Israel and Egypt have enforced the blockade, to varying degrees, since Hamas seized Gaza in 2007. Israel has said it will not open Gaza's borders unless militant groups, including Hamas, disarm. Hamas has said handing over its weapons arsenal, which is believed to include several thousand remaining rockets, is inconceivable.
Since the truce expired Friday, smaller Gaza militant groups -- though not Hamas, according to claims of responsibility -- have fired dozens of rockets and mortar shells at Israel, including two on Sunday.
"If Hamas thinks it has worn us down, it is wrong," Israeli Defense Minister Moshe Yaalon said. "We will return to the table only after an end to the fire. ... We are not intending to compromise."
The diplomatic standoff, coupled with the ongoing cross-border attacks, signaled that a broader deal for battered Gaza, as envisioned by the international community, likely will remain elusive.
Various ideas have been raised to end Gaza's isolation, including deploying international inspectors at all crossings to address Israeli security concerns about smuggling weapons and militants. Europe has floated the idea of a link between ports in Gaza and Cyprus, with inspectors at both ends checking people and cargo.
Palestinian officials have said that Israel has so far rejected such proposals.
The Gaza war erupted on July 8, following weeks of escalating tensions between Israel and Hamas.
Israel launched an air campaign on the coastal territory, sending in ground troops nine days later to target rocket launchers and cross-border tunnels built by Hamas for attacks inside Israel.
Israel has targeted close to 5,000 sites, the army has said, while Gaza militants have fired more than 3,000 rockets into Israel.
On Sunday, Israeli aircraft hit about 20 targets, the army said.
The Associated Press contributed to this report.