Islamic militants raid Chechen parliament, 6 dead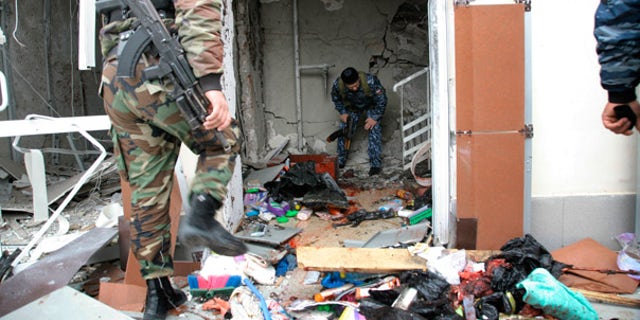 GROZNY, Russia – Islamic insurgents attacked Chechnya's parliament Tuesday in a brazen suicide raid that left six people dead and 17 wounded, defying Kremlin claims of stability in the volatile southern region.
In a clear challenge to Moscow, the raid occurred just as Russia's interior minister was visiting the provincial capital of Grozny.
The three attackers drove to the tightly guarded parliament complex and got inside. One militant blew himself up at the doors and another two ran into the building shouting "Allahu akbar!" — "God is great!" in Arabic — as they opened fire on the people inside, said Chechen police spokesman Ramzan Bekkhoyev.
The regional chief prosecutor's office said the remaining two attackers also blew themselves up after exchanging fire with police, while other officials said they were killed in a gunbattle. Two police officers and a civilian government employee were killed in the raid and 17 others were wounded, prosecutors said.
Bloodstains, body parts and a decapitated corpse were still scattered outside the building hours after the attack as police and special forces backed by armored vehicles patrolled the area.
An Associated Press reporter at the parliament saw ambulances take away two bodies, along with the severed head of a militant.
Chechnya's Moscow-backed regional president, Ramzan Kadyrov, sought to play down the attack, saying the assailants were killed quickly. His office said Russian Prime Minister Vladimir Putin and President Dmitry Medvedev called him to offer assistance. Medvedev, on a visit to France, was briefed about the attack by Russian security officials.
In Washington, the U.S. offered condolences to the families of the dead and wounded.
"We also express our solidarity with Russia in the struggle against terrorism. We're concerned about continued violence in Russia's North Caucasus, which contributes to instability and personal insecurity in the region," said State Department spokesman Mark Toner. "Several independent non-governmental reports confirm that the level of violence has increased in 2010 in several North Caucasus regions, and we've been following these events closely."
Kadyrov and Russia's Interior Minister Rashid Nurgaliyev attended a parliament session shortly after the raid. Nurgaliyev said the insurgents had tried to get into the main parliamentary chamber.
"As always, they failed. Unfortunately, we were not able to avoid loss of life," Nurgaliyev said. "The situation we saw today is extremely rare. Here, there is stability and security."
Kadyrov, a former rebel, has recruited many ex-militants into his feared security forces. The bullnecked 34-year-old former militia chief also sought to blunt the rebels' appeal with a massive construction boom in Chechnya and a campaign to impose strict Islamic values.
The ITAR-Tass news agency cited Chechnya's Interior Ministry branch as saying that the attack had been planned by warlord Khusein Gakayev who had broken loose from the main rebel commander, Doku Umarov. It said Gakayev launched the attack to try to raise his profile.
Human rights activists have accused security forces and paramilitary units under Kadyrov's command of extra-judicial killings, kidnappings and torture of rebel suspects and their relatives.
Russian troops retreated in humiliation after the first 1994-96 separatist war in Chechnya that left the region de facto independent and largely lawless. The Russian army rolled back into Chechnya in 1999 following a rebel incursion into a neighboring province and bombings at apartment buildings in Moscow and other Russian cities blamed on the militants.
While large-scale battles in Chechnya ended years ago, hit-and-run raids by the rebels have continued. In August, a shootout in Kadyrov's home village between his guards and suspected insurgents left 19 people dead, including five civilians.
Islamic insurgents also have spread quickly across neighboring provinces in Russia's predominantly Muslim North Caucasus region, which separatists strive to turn into an independent emirate that adheres to Shariah law. The insurgents are thought to be in a sporadic network of cells that shelter in the region's forested mountains.
They struck in the heart of Russia in March, when suicide bombers from Dagestan detonated explosives in the Moscow subway, killing 40 people and wounding about 100. Last month, a suicide car bombing killed 17 people and wounded more than 140 in Vladikavkaz, a major city in the North Caucasus.
These bombings followed numerous other terror attacks by Chechen rebels since the 1991 Soviet collapse, including the Beslan school siege in 2004 that ended in a bloodbath in which more than 330 people — about half of them children — were killed.
___
Shuster reported from Moscow. Associated Press writers Sergei Venyavsky in Rostov-on-Don, Russia, David Nowak and Vladimir Isachenkov contributed from Moscow.