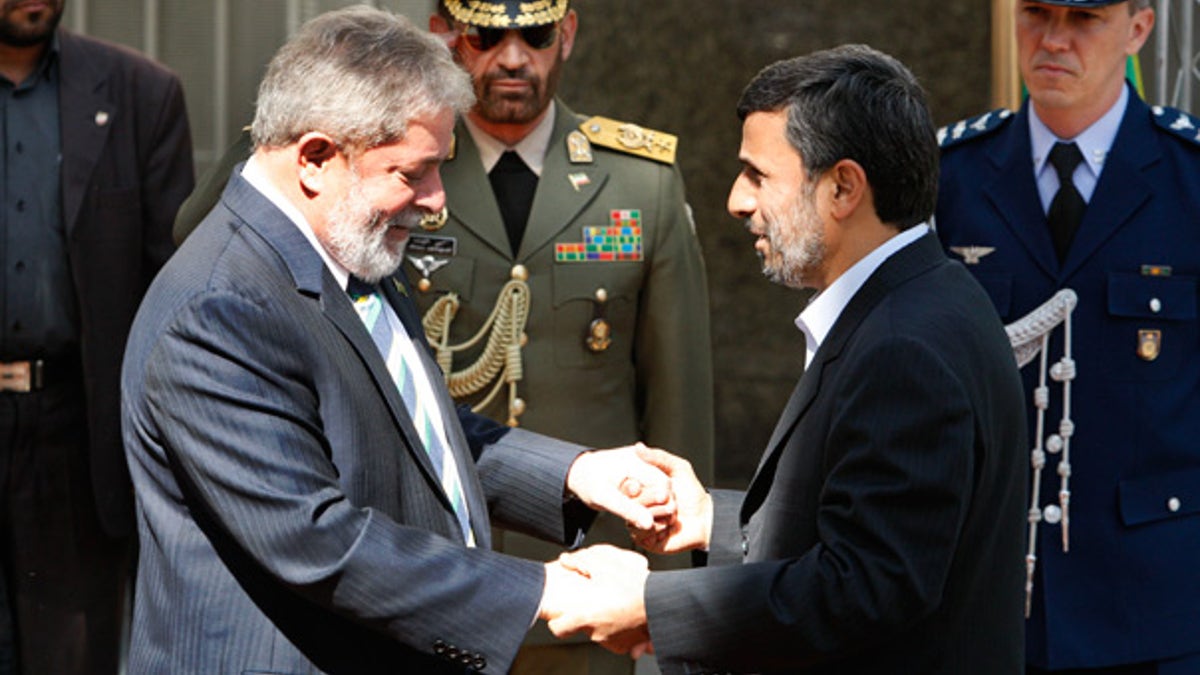 Iran plans to continue producing highly enriched uranium, nuclear officials announced Monday -- backsliding immediately after signing a nuclear fuel swap deal with Turkey and Brazil meant to fend off international sanctions.
Ali Akbar Salehi, head of Iran's Atomic Energy Organization, said Iran will push forward with its enrichment program despite its promise to ship most of its low-enriched uranium to Turkey for further processing.
"There is no relation between the swap deal and our enrichment activities," Salehi told Reuters, explaining the decision to send 3.5 percent enriched uranium to Turkey. "We will continue our 20 percent uranium enrichment work."
Western governments spearheading efforts to contain Iran's nuclear program were immediately wary of the announcement, and British officials said they remain committed to levying new sanctions against Tehran.
"Our position on Iran is unchanged at the present time," Steve Field, Prime Minister David Cameron's spokesman, told reporters. "Iran has an obligation to reassure the international community, and until it does so, we will continue to work with our international partners on a sanctions resolution in the United Nations Security Council."
In Washington, a U.S official also suggested that Iran's move was too little, too late.
Iran "will still have to take additional steps to assure the international community of its peaceful intentions, including complying with five U.N. Security Council resolutions it is currently violating," he said, asking for anonymity because he was not authorized to comment publicly. "Its failure to take those steps ... is the reason we have been working with our ... partners on a sanctions resolution in the Security Council.
"Until Iran takes concrete actions to meet its obligations, that work will continue."
Martin Nesirky, spokesman for U.N. chief Ban Ki-moon, called Iran's deal brokered by Turkey and Brazil "encouraging," but said Tehran must comply with Security Council resolutions.
German government spokesman Christoph Steegmans noted that the question remains whether Iran suspends enrichment of nuclear material at home, apparently alluding to Tehran's decision to continue higher enrichment activities.
Despite such Western reaction, Iran's move might give it a diplomatic victory by weakening growing resolve by Russia and China to support a fourth set of Security Council sanctions. Moscow and Beijing were responsible for watering down the language of previous anti-Iran sanctions but in recent months appeared to swing behind the U.S., Britain and France -- the three other veto-wielding Security Council members -- in their push for new U.N. penalties.
Russian President Dmitry Medvedev cautiously welcomed the agreement between Iran, Brazil and Turkey, but added that the deal may fail to fully satisfy the international community. Medvedev said during a trip to Ukraine that Iran's apparent intention to continue its own uranium enrichment is a cause for concern.
Additionally the deal moves Turkey and Brazil -- two emerging regional powers and influential elected Security Council members -- closer to Tehran, which has played up American dominance in world affairs in its efforts to woo key emerging nations suspicious of aspects of U.S. foreign policy.
Turkish Prime Minister Recep Tayyip Erdogan signaled his backing for the deal.
"Turkey hopes that this process will be supported by world countries without any setbacks, "he told reporters in Baku, Azerbaijan. "There would be no question of sanctions if all countries support this process."
When tentatively agreed on seven months ago, the deal committing Iran to export most of its low-enriched stock was hailed by the West because it would have delayed Iran's ability to make a nuclear warheads by stripping it of the material it needs to make nuclear warheads.
The proposal put forward now would see Iran ship out about 2,600 pounds kilograms of low-enriched uranium -- the same amount as under the tentative October agreement negotiated by the U.S., Russia, France and Iran and endorsed by the Vienna-based International Atomic Energy Agency.
In October, exporting that much would have left Iran with less than the 1,000 kilograms, or 2,200 pounds, of material needed to make enough weapons grade uranium for a bomb. Since then, however, Iran has churned out enough additional low-enriched material to leave it with enough to make such a weapon even if it sends the originally agreed on amount abroad.
In March, the IAEA said Iran's stockpile stood at around 2,100 kilograms. It has likely grown since then to an estimated 2,300 kilograms -- about 5,000 pounds, or more than twice the commonly accepted amount needed to produce enough material for one bomb, according to David Albright of the Washington-based Institute for Science and International Security, which has tracked Iran for signs of covert proliferation.
From the West's point of view, that destroys much of the incentive for the agreement -- and Iran's decision to continue its program to enrich to near 20 percent poses an even greater hurdle than the increase in its low-enriched stockpile.
The original U.N. proposal called for the Iranian uranium stockpile to be sent to Russia to be further enriched to 20 percent, then turned into fuel rods to power a Tehran medical research reactor in Tehran that produces isotopes for cancer treatment. The material returned to Iran as fuel rods cannot be processed beyond its lower, safer levels.
But after its failure to change the original terms of the fuel swap deal, Iran declared it would make its own research reactor fuel and began enriching to 20 percent four months ago. That rang international alarm bells because -- although substantially below weapons grade -- that material could be turned into the fissile core of nuclear warheads much more quickly than Tehran's larger stockpile of 3.5 percent, low-enriched uranium.
The Iranian government on Monday said it would continue to do so, even if all sides agreed to its export offer.
"Of course, enrichment of uranium to 20 percent will continue inside Iran," Foreign Ministry spokesman Ramin Mehmanparast told the official news agency IRNA.
Because agreement on a fuel swap, which would give Tehran the fuel rods for its research reactor, would negate Tehran's stated rationale to enrich to near 20 percent, its decision to continue no matter is bound to feed international suspicions.
"There is no apparent civilian use for this material," the British Foreign Office said, adding that the decision to continue higher enrichment "underlines Iran's disregard for efforts to engage it in serious negotiation."
The U.S. official said Iran had "no justification for continuing" to enrich to near 20 percent.
Iran, which claims its nuclear program is peaceful, had long insisted that any swap take place on domestic soil and only after it was given fuel rods. Alternately it said it was only ready to ship out its uranium in smaller amounts.
Monday's deal was announced after talks between Brazil's president, Luiz Inacio Lula da Silva, Erdogan, the Turkish prime minister, and Iranian President Mahmoud Ahmadinejad in Tehran.
If Iran does not receive the fuel rods within a year, Turkey will be required to "quickly and unconditionally" return the uranium to Iran, according to a joint declaration by the three nations. Iran feared that under the initial U.N. deal, if a swap fell through, its uranium stock could be seized permanently.
Erdogan said that once Iran received the fuel rods, Turkey will hand the Iranian low-enriched uranium to whatever country provided the fuel. Still the agreement signed among the three countries did not specify that -- an omission that could open the path to a possible claim by Iran.
The United Nations has already imposed three rounds of financial sanctions on Iran for its refusal to suspend uranium enrichment. The process is key to concerns over its program, because it can produce either low-enriched uranium needed to fuel a nuclear reactor or the highly enriched uranium needed to build a warhead.
Iran first reached out to Turkey and Brazil in its efforts to avoid tougher U.N. sanctions for its refusal to stop enriching uranium altogether.
Monday's deal was signed by the foreign ministers of the three countries.
Mehmanparast said a letter will be sent to the IAEA within a week to pave the way for a final agreement.
"Should they be ready, an agreement will be signed between us and the group," he said, referring to the U.S., France, Russia and the IAEA.
A month later, the uranium would be sent to Turkey, where it would be stored under IAEA and Iranian supervision, Mehmanparast said.
The Associated Press contributed to this report.