Indonesia earthquake in popular tourist area results in multiple deaths, over 160 people injured
At least 14 people were killed and more than 160 injured after a large earthquake struck an island in Indonesia near the popular tourist destination of Bali on Sunday, officials said.
The U.S. Geological Survey said the 6.4 magnitude earthquake struck at a depth of only 4.4 miles. Shallow earthquakes tend to do more damage than deeper ones.
The powerful temblor, which was followed by two smaller earthquakes and 60 aftershocks, hit the Lombok island, with the eastern part of the island sustaining more damage.
"People in East Lombok and Mataram felt the strong quake for 10 seconds; residents were panicking and running outside of their homes," said Sutopo Purwo Nugroho, a spokesman for Indonesia's Disaster Mitigation Agency, according to Sky News.
The quake killed a 30-year-old Malaysian woman in East Lombok, and the number of casualties could rise as officials search the island, Nugroho said.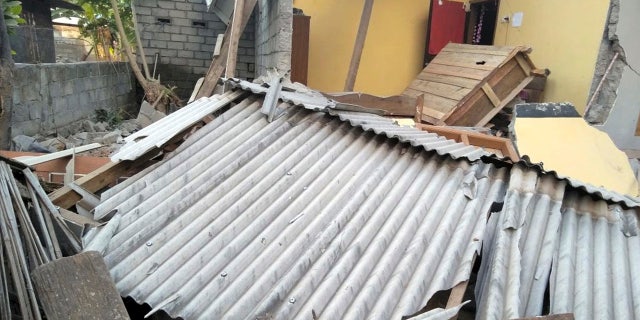 Of the 162 people reported injured, 67 are hospitalized with serious injuries, Nugroho added
The quake caused blackouts in East Lombok and North Lombok districts and triggered a large landslide from Mount Rinjani, where rescuers were evacuating more than 800 tourists from the mountain.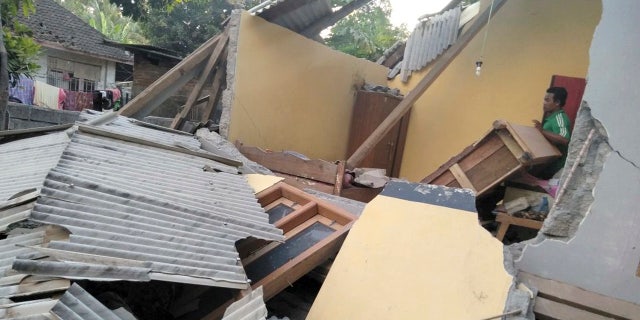 'BIG ONE' COMING? EARTHQUAKES OFF THE WEST COAST COULD EVENTUALLY TRIGGER A GLOBAL EVENT
In East Lombok and the provincial capital of Mataram, Nugroho said most of the fatalities and injuries were caused by falling slabs of concrete.
Photos released by the disaster agency showed damaged houses and the entrance to the popular Mount Rinjani National Park, which was immediately closed for fear of landslides.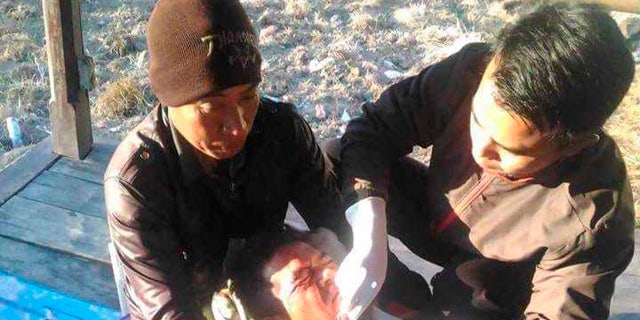 Television footage showed residents remaining outside, fearing aftershocks, as the injured were being treated on mattresses taken out of their partially damaged houses and patients were wheeled out of a hospital.
Eka Fathurrahman, the police chief in East Lombok, told the Associated Press that a Malaysian woman who died was part of a group of 18 Malaysian tourists who had just visited Mount Rinjani when the quake jolted their guesthouse and toppled a concrete wall. Six other people were injured at the guesthouse.
Fathurrahman said many injured people who were treated outside a damaged clinic were evacuated to the main hospital farther away after more ambulances reached the devastated location in East Lombok's Sembalun Village.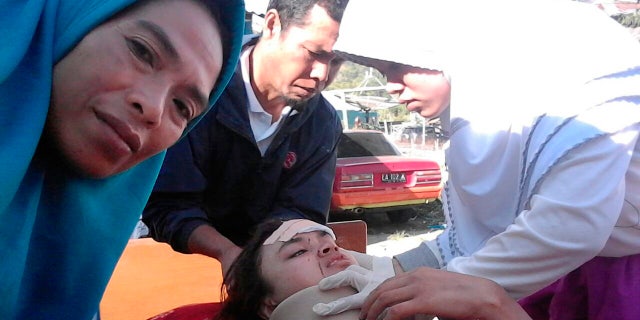 "Residents refused to enter their houses as prolonged aftershocks are still being felt," he said.
Indonesia is prone to earthquakes due to its location on the Pacific "Ring of Fire," an arc of volcanoes and fault lines in the Pacific Basin. In December 2004, a magnitude 9.1 earthquake off Sumatra triggered a tsunami that killed 230,000 people in a dozen countries.
The Associated Press contributed to this report.