India's Modi sparks outrage with dead 'puppy' remark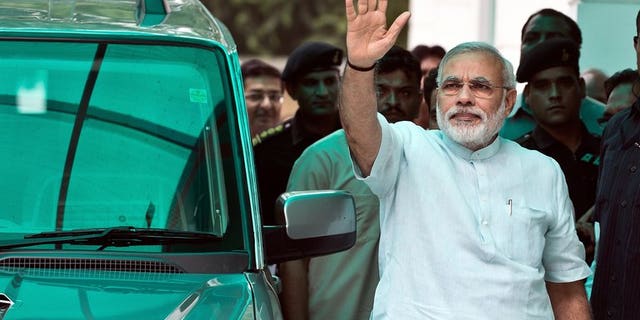 NEW DELHI (AFP) – Indian Hindu hardliner Narendra Modi, seen as the key opposition challenger in 2014 elections, has said he meant no offence when he compared victims of anti-Muslim violence to puppies run over by a car.
Modi, in an interview published Friday with an international news agency, spoke openly for the first time about 2002 anti-Muslim riots in western Gujarat state in which Hindu mobs killed over 1,000 Muslims.
The controversial Bharatiya Janata Party leader, who is Gujarat's chief minister and was in power during the riots, said he felt "sad" over the violence -- just the way one would feel "bad" when a car runs over a puppy.
The remark to Reuters news agency was splashed on Indian newspaper front pages on Saturday and trended on Twitter.
" 'Hindu nationalist' Modi kicks up storm with puppy remark," said a Times of India headline.
Modi tried to counter the criticism by tweeting late Friday: "In our culture every form of life (including puppies) is valued and worshipped." But critics were not appeased.
"His comment is very bad, dangerous and humiliating," said Kamal Farooqi, a senior leader of the regional Samajwadi Party, which draws support from Muslims in India's most populous state of Uttar Pradesh.
"What is he really saying? Are Muslims less than puppies?" asked Farooqi.
Modi said he would have felt "guilty" over the violence "if I did something wrong" but if "someone else is driving a car and we're sitting behind, even then if a puppy comes under the wheel, will it be painful or not? Of course it is.
"If I'm a chief minister or not, I'm a human being. If something bad happens anywhere, it is natural to be sad," said Modi, without explaining why he was not at the wheel during the riots as chief minister.
Ruling Congress party general secretary Ajay Maken said Modi should apologise to the nation "for the kind of words and analogy he has used".
The regional Janata Dal (United) party called Modi "a very dangerous person".
National Law Minister Kapil Sibal also waded into the row, demanding to know, "What was he (Modi) doing in the back seat?" when the riots occurred.
Modi, whose state has thrived economically under his leadership, is expected to be tapped as candidate for prime minister if the BJP wins the elections to be held by May 2014.
Modi paints himself as a pro-business reformist who can revive the fortunes of the world's largest democracy. But he remains a divisive figure nationally after being accused of doing nothing to stop religious riots in his state.
On July 10, Modi tweeted "Happy Ramzan. May this holy month bring joy, peace & prosperity in our lives."
While he has never been convicted of any offence, one of his former ministers was jailed last year for orchestrating some of the violence and India's top court once compared him to Nero, the emperor who fiddled while Rome burned.