Hollande vows to destroy ISIS 'army of fanatics' at Paris attacks memorial ceremony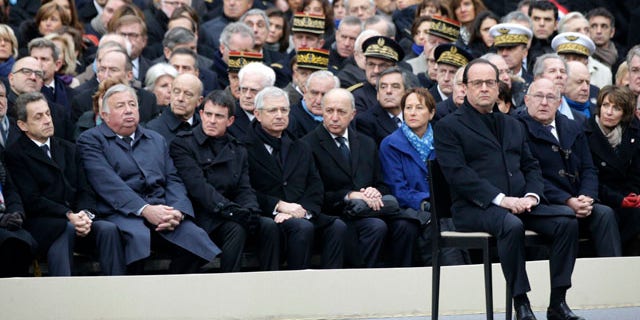 NEWYou can now listen to Fox News articles!
French President Francois Hollande vowed his country would "do its utmost to destroy this army of fanatics" at a memorial ceremony to honor the victims of this month's Paris terror attacks.
The ceremony, held at the Invalides national monument in the center of the French capital, included a reading of the names of the 130 people killed in the series of coordinated attacks that targeted the country's national stadium, a series of cafes, and a sold-out concert hall.
The youngest victim of the attacks was 17 and the oldest was 68, but the vast majority of those who died were in their 20s and 30s. The ISIS terror group claimed responsibility for the assaults, saying it was retaliation for French airstrikes in Syria and Iraq.
"It is because they represented freedom that they were massacred," Hollande said of the victims. Later in his 20-minute address, speaking to the victims' families, the president said, "France will be by your side. We will gather together our strength to try to ease your pain."
Windows were draped with French flags in an uncharacteristic display of patriotism, but the locked-down courtyard ceremony lacked the defiance of January, when a million people poured through the streets to honor those killed by Islamic extremist gunmen at the offices of the satirical newspaper Charlie Hebdo.
France's military provided the only images of Friday's ceremony, and no one without an invitation was permitted inside. Among the spectators were several people who were injured in the attacks, watching from wheelchairs. Hollande entered and departed the Invalides alone, and sat in a simple chair in front of the assembled crowd during the ceremony.
Prior to the ceremony, one family called for it to be boycotted to protest what they claimed was a collective failure in preventing the attacks on the part of the French government and security services.
Emma Prevost, who lost her brother Francois-Xavier in the rampage, set out her views in a widely-read Facebook post.
"So no thank you, Mr. President, politicians, your tribute we do not want," she wrote. "You were partly responsible for what happened to us. It was earlier that there was a need to act. The attacks in January should have been sufficient."
The Associated Press contributed to this report.