Hero Spanish cop killed 4 Cambrils terror attack suspects, official says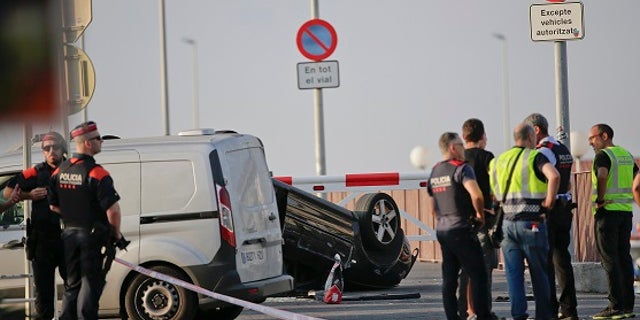 A heroic Spanish police officer on Friday single-handedly killed four of the five suspects who were believed to have carried out a terror attack in the Catalan seaside town of Cambrils, a senior police official said.
At least one of the suspected terrorists appeared to be laughing and taunting a police officer who shot and killed him, according to video footage of the incident and a witness who saw the stunning encounter.
"Police jumped out the car and started shouting at the guy, he was saying something else, and then 'pop, pop,' a couple of shots and then he stood back up and then he stepped over the fence and he started like taunting and smiling," witness Fitzroy Davies told BBC Radio 4. "Then he carried on walking to the police and then they gave it to him again, a couple more shots, and then he fell to the ground and that's when I decided to go."
Catalan regional police official Josep Lluis Trapero said the incident was "not easy" for the officer involved. At least one person was killed and six others were injured in the Cambrils terror attack, when a car rammed into a crowd of pedestrians.
All five suspects were reportedly wearing fake bomb belts, a tactic that has been used by terrorists in prior attacks, a U.S. government official told Fox News. The official said police cannot tell from a far distance if the explosive belts are real or fake. The suspects also carried an ax and knives in the car. Mossos police, Catalonia's police force, tweeted one of the suspects slashed a person in the face before the terrorist was killed.
AMERICAN DEAD IN SPAIN, US CITIZEN ALSO INJURED IN TERROR ATTACK
Hours earlier in Barcelona, a van struck a crowd of pedestrians, killing at least 13 people and injuring more than 100 others.
One American was reported killed and one was reported injured in the twin attacks, the State Department said on Friday. Neither individual was immediately identified.
Trapero said police believe the Barcelona and Cambrils attacks were linked. He also said the two attacks may have possibly been connected to an explosion in a house in the town of Alcanar on Wednesday in which one person was killed. Police believe one of the people injured in that blast and now arrested had links to the two attacks.
Police are also investigating whether the attacks are connected to an incident Thursday in which the driver of a Ford Focus plowed through a police checkpoint leaving Barcelona after the Las Ramblas attack, injuring two police officers. The driver of the Ford Focus was killed.
Police have arrested four people in connection with the terror attacks. On Friday, two people were arrested and two others were arrested Thursday. Of those being detained, three are Moroccan natives and one is a Spaniard, none with terror records. At least three of them were found in the northern town of Ripoll. Another arrest was made in Alcanar, south of Barcelona.
The Spanish court issued an order to search and capture four suspects in the Barcelona and Cambrils attacks. According to Le Parisien, police have named the four suspects including a 17-year-old man who is suspected of driving the van in Barcelona.
CALIFORNIA WOMAN SAYS HUSBAND MISSING AFTER BARCELONA TERROR ATTACK
ISIS has claimed responsibility for the attack.
The injured and dead were from 34 different countries, including France, Germany, Italy, Pakistan, the Philippines and the U.S. A man from California has been reported missing.
A number of political leaders have spoken out to condemn the attack. Pope Francis said the attack is a "very grave offense to the Creator." Spanish Prime Minister Mariano Rajoy said the fight against terrorism is a "global battle." He thanked emergency services for their quick response. President Donald Trump tweeted that the United States condemned the terror attack and will do everything necessary to assist Spain.
Fox News' Catherine Herridge and The Associated Press contributed to this report.