Hands, feet of tribe members chopped off in bloody dispute over land in Brazil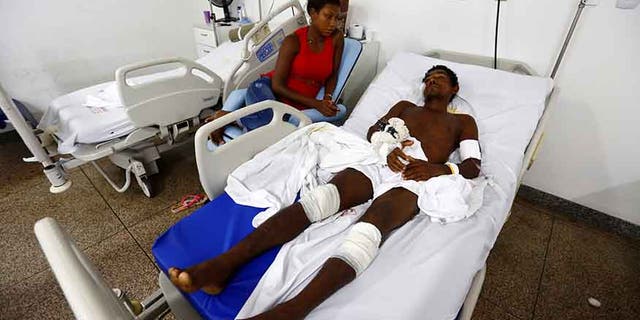 More than a dozen members of an indigenous tribe were injured in a dispute over land in northern Brazil over the weekend, including some whose hands and feet were reportedly hacked off.
According to The Guardian, 13 members of the Gamela community in the state of Maranhão were assaulted by ranchers armed with rifles, machetes and clubs.
The Indigenous Missionary Council said members of the Gamela tribe were attacked as they leaving land recently reclaimed from cattle ranchers.
INDIGENOUS PROTESTERS IN BRAZIL SHOOT ARROWS AT POLICE IN RESPONSE TO TEAR GAS
No deaths were reported, but three are hospitalized in serious condition.
The territory in dispute was seized during the military dictatorship (1964-85) and divided up among local landowners. But the Gamela insist the land was stolen from them, The Guardian reported.
In 2014 the Gamela community, a group of approximately 400 families, stepped up their campaign to recover the land.
After Sunday's events, Brazilian Justice Minister Osmar Serraglio sent federal police to prevent further conflicts between farmers and "supposed indigenous people," according to a ministry release.
The bloody attack is the latest in a string of confrontations. According to a recent report by the Pastoral Land Commission, a body linked to the Brazilian Episcopate, throughout last year 61 people were killed in land-related conflicts, 13 of them indigenous.
PHOTOGRAPHER CAPTURES INCREDIBLE IMAGES OF ISOLATED AMAZON TRIBE
Just last week, around 2,000 indigenous people from different Brazilian tribes demonstrated in Brasilia, the capital, against a bill that introduces changes in the delimitation process of what the claim are their territories.
The decisions on these lands have been made so far by the state-run National Indian Foundation. If the bill is approved, such responsibility will be transferred to the Congress, where according to critics a large group of lawmakers look only after their own interests.
Reuters contributed to this report.