Girlfriend of murdered Putin critic breaks silence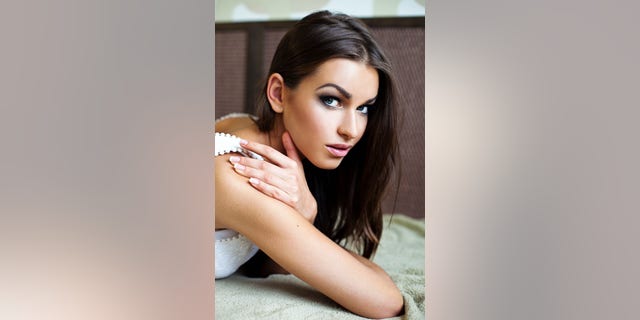 The shaken girlfriend of Boris Nemtsov told reporters that despite hours of questioning, she can't offer any information on who may have gunned down the Russian opposition activist as they walked across a bridge near the Kremlin Friday night.
Ukrainian fashion model Anna Duritskaya, 23, broke her silence Monday, speaking to Russian online news channel Dozhd, saying she remembers very little about the incident and did not see the killer who shot Nemtsov, her boyfriend of more than three years.
Duritskaya spoke in flat, deadened monosyllables as she described her mental state, Reuters reported.
"I am in a very difficult psychological condition and I cannot talk about this any more now. I feel bad ... I saw no one. I don't know where he came from, he was behind my back," she said of the killer or killers.
She went on to say that she had not noticed anything suspicious as she and Nemtsov, 55, ate at a restaurant overlooking Red Square, and wasn't aware if someone was following them as they headed across the river toward Nemtsov's apartment. They reportedly walked across a bridge, where a white car drove up. Then, Nemtsov was shot four times.
"I don't want to answer questions about what happened on the bridge. I don't want to talk about this," she said.
Nemtsov, a first deputy prime minister under President Boris Yeltsin in the 1990s, was killed near the Kremlin a day before his planned protest against the Russian government. He is the most prominent opposition figure to be murdered during President Vladimir Putin's 15-year rule.
Duritskaya -- who has been staying at a friend's apartment in Moscow -- said she may not be able to attend Nemtsov's funeral Tuesday, as she's been under constant guard since the murder. "I have every right to leave the territory of the Russian Federation. I am not a suspect. I am a witness who gave full testimony and did everything possible to assist the investigation," she said.
She says she wants to go home to Ukraine to see her mother, but fears authorities will not allow it. "They are physically not allowing me to go anywhere without them," Duritskaya said, referring to law enforcement officials. "They have explained to me that this is for security reasons."
Authorities had questioned her several times, searched her belongings and examined her cellphone records. She said she was initially questioned for several hours without an attorney or Ukrainian Embassy representative.
Investigators say they are following several leads and have several possible motives. They have offered 3 million rubles (nearly $50,000) for information about the killing. One theory is that Nemtsov may have been the victim of a jealous former lover, but Duritskaya ruled that out.
"I don't think anything. I cannot think at the moment. I don't know who did it," she said.
Meanwhile, there were conflicting reports Monday about the availability of possible surveillance footage showing Nemtsov's murder, as Russian authorities promised a full investigation into his death.
No suspects have been arrested since Nemtsov was shot dead Friday night. The area is one of the most secure, heavily photographed parts of the Russian capital, but it was not clear what CCTV footage may have captured his murder. The attack came just hours after a radio interview in which Nemtsov denounced Russian President Vladimir Putin's "mad, aggressive policy" in Ukraine.
The business newspaper Kommersant on Monday quoted anonymous sources in the Interior Ministry as saying there was no CCTV footage of the killing because the cameras in question were not working at the time.
However, Yelena Novikova, a spokeswoman for Moscow's information technology department, which oversees the city's surveillance cameras, said Monday that all cameras "belonging to the city" were operating correctly on the night of Nemtsov's death. She said federal authorities also had surveillance cameras near the Kremlin that are not under her organization's control.
Still, Novikova would not confirm the existence of any video of the killing, saying the police investigation was still under way.
Meanwhile, TV Center, a station controlled by the Moscow city government, broadcast a poor-resolution video from one of its web cameras that it said showed Nemtsov and his date shortly before he was killed.
The station, which superimposed its own time code on the footage, circled figures it said were Nemtsov and the woman walking across the bridge on a rainy night. A vehicle that TVC identified as a snowplow moved slowly behind the couple, obscuring the view of the shooting. TV Center then circled what it said was the suspected killer jumping into a passing car.
The authenticity of the TVC video could not be independently confirmed.
Duritskaya's mother Inna, who spoke to The Associated Press in Kiev, said Monday she had been in touch with her daughter.
"I am worried that they want to use her, as a citizen of Ukraine, use her as though this situation is somehow something to do with Ukraine," she said. "She has absolutely nothing to do with this killing. She was not politically active. She had nothing to do with Boris' political activities."
In Geneva on Monday, Russian Foreign Minister Sergey Lavrov called the Nemtsov killing a "heinous crime which will be fully investigated." He told the U.N. Human Rights Council that Putin had "immediately handed down all instructions and is ensuring special control over this investigation."
At the same time, he rebuffed outside interference in the probe, saying any "attempt to use the heinous killing of Boris Nemtsov for political purposes is despicable."
Nemtsov had criticized Putin's annexation of Crimea and his support for pro-Russian separatists in the east of Ukraine. Tens of thousands of Russians marched through Moscow Sunday to honor the anti-corruption fighter, while other supporters mourned him in St. Petersburg and other European cities.
Nemtsov will be buried on Tuesday at the Troekurovskoye cemetery in western Moscow, far from where Russia's top politicians are usually buried.
The Associated Press contributed to this report.