Germany says human rights situation in Libya 'catastrophic'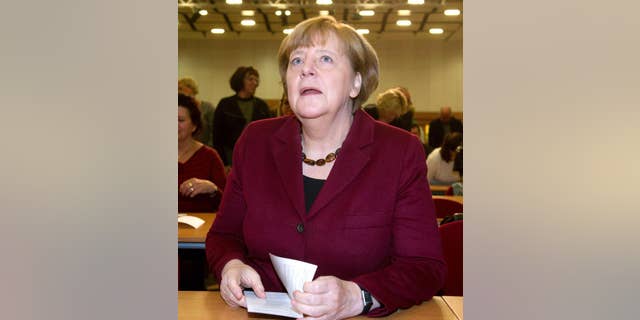 NEWYou can now listen to Fox News articles!
BERLIN – The human rights situation in Libya is "catastrophic," with migrants heading for Europe bearing the brunt of abuse, the German government said Monday.
A report Sunday by German weekly Welt am Sonntag quoted an internal Foreign Ministry memo describing how migrants face torture and execution at detention camps in Libya. The country has become a key departure point for migrants from Africa trying to cross the Mediterranean Sea to Europe. Thousands of people died last year when their rickety boats sank en route.
A separate Foreign Ministry memo obtained by The Associated Press described the camps as "terrible."
"Europe mustn't look away but try to make the living conditions bearable now," the memo said. "Our credibility is on the line here."
Foreign Ministry spokesman Martin Schaefer declined Monday to confirm or deny the authenticity of the memos.
"It is of course right, though, that the human rights situation in Libya is catastrophic," Schaefer told reporters in Berlin. "It hits the weakest of the weak most, so to speak, and in this case that could be hundreds of thousands of people who are making their way from West Africa to what they regard as the promised land, Europe."
The European Union has been trying to stem the flow of migrants to Europe by encouraging the Libyan government to crack down on smugglers who have taken advantage of chaos and lawlessness since the ouster of Muammar Gadhafi six years ago. But the United Nations-backed government has little control over armed groups outside the capital, Tripoli.
"The (Libyan) state doesn't work, or only in a rudimentary fashion," Schaefer said. "That's why talks with the Libyan government about the situation, for example, of refugees, aren't very productive."
German Chancellor Angela Merkel said Saturday that a deal in which migrants rescued by European navies patrolling the Mediterranean might be sent back to Libya would only be possible once the country becomes politically stable.
EU leaders are scheduled to discuss the situation in Libya at a summit Friday in Malta.
___
Follow Frank Jordans on Twitter at http://www.twitter.com/wirereporter