France to Bring Home Staff From Embassy in Iran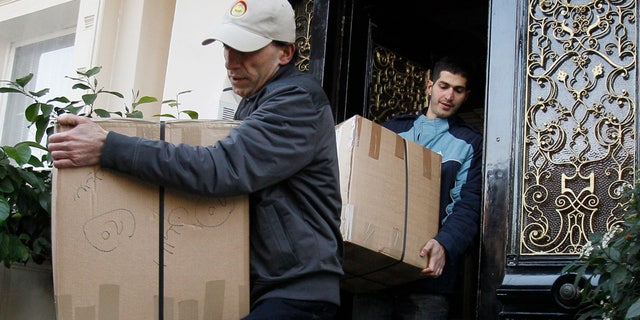 PARIS -- France is temporarily downsizing its embassy in Iran and will bring some employees and their families home, a French official said Saturday. The move is the latest fallout from protesters' storming of the British embassy in Tehran and adds to the international pressure on the Iranian government.
The French diplomatic official described the decision as a preventative security measure, and acknowledged it was a response to the attack on the U.K. mission. But he stressed the French embassy will remain open and declined to specify how many staffers will be sent home.
Some 20 to 30 French citizens, including some French-Iranian dual nationals, work at the embassy, he said. Decisions about who gets to leave will be made on a "case by case basis," the official said. He added that the repatriations could begin as early as Sunday or Monday.
The French Lycee, or high school, in Tehran will also remain open, said the official, who spoke on condition of anonymity because he was not authorized to speak on the record.
London alleges Tuesday's attack -- by protesters angry over the proposed toughening of sanctions over Iran's nuclear program -- was sanctioned by Tehran's ruling elite.
It has prompted Iran's most serious diplomatic fallout with the West since the 1979 takeover of the U.S. Embassy after the Islamic Revolution, and some Iranian political figures have voiced doubts over whether anything can be gained from escalating the diplomatic battle.
Britain has pulled its diplomats out of Iran and expelled Iranian diplomats from its soil. France announced earlier this week that it was recalling its ambassador for consultations following the attack, as have Germany and the Netherlands. Italy and Spain summoned Iranian envoys to condemn the attacks.
The embassy attack has helped fuel support for additional sanctions on the Iranian government over its nuclear program. The U.S. and Western allies including Britain suspect Iran is trying to build a weapons program, but Tehran says it is only interested in nuclear energy.
On Saturday, the Iranian diplomats expelled from London arrived home, the official IRNA news agency reported. The roughly two dozen diplomats and their families were greeted at Tehran's Mehrabad airport and given a hero's welcome by about 150 hard-liners.