Fired medic on trial for murder of 4 in revenge plot, including 11 year old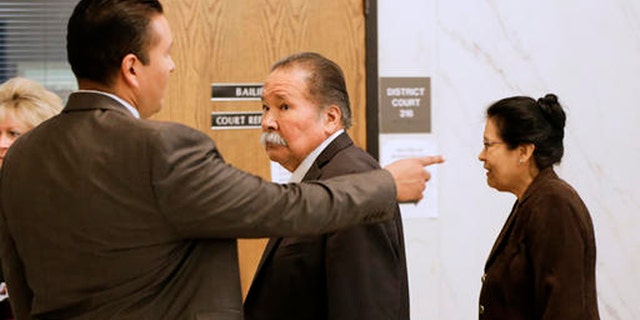 NEWYou can now listen to Fox News articles!
OMAHA, Neb. (AP) – Prosecutors in Nebraska opened a first-degree murder trial Monday against a former doctor by arguing he committed four killings in Omaha to avenge his firing from Creighton University Medical Center.
Prosecutors outlined their case against Anthony Garcia, who is charged with stabbing to death the 11-year-old son of two medical doctors and the family's housekeeper in 2008 and then killing another Omaha doctor and his wife in 2013. They said the killings were motivated by Garcia's long-simmering rage from being fired from the medical school's residency program in 2001, according to the Omaha World-Herald.
"This is a case about revenge," Deputy County Attorney Brenda Beadle said. "This is a man whose life was spiraling into disaster, and he blamed Creighton."
Garcia's attorneys responded that prosecutors lack witnesses or physical evidence.
Defense attorney Robert Motta Sr. called the prosecutors' case a "loosely woven tapestry" that would fall apart as lawyers present evidence.
Garcia was arrested in 2013 and charged with the 2008 killings of Thomas Hunter and housekeeper Shirlee Sherman. Their bodies were found by Hunter's father, Dr. William Hunter, who works in Creighton's pathology department.
The killings remained unsolved for years, and then, in May 2013, another Creighton pathology doctor, Roger Brumback, and his wife, Mary, were found slain in their Omaha home. Roger Brumback had been shot and stabbed; his wife was stabbed to death.
Investigators developed a motive in the killings, noting William Hunter and Roger Brumback had together fired Garcia from the Creighton residency program in 2001 for unprofessional conduct and later wrote letters that kept him from being accepted to other residency programs and approved for medical licenses in other states.
After opening statements, William Hunter described calling 911 after finding the bodies of his son and Sherman.
"I didn't know how to explain what I was seeing," he testified. "It didn't seem real to me."
Garcia faces a possible death penalty if convicted.