Femen stages topless protest against Turkey PM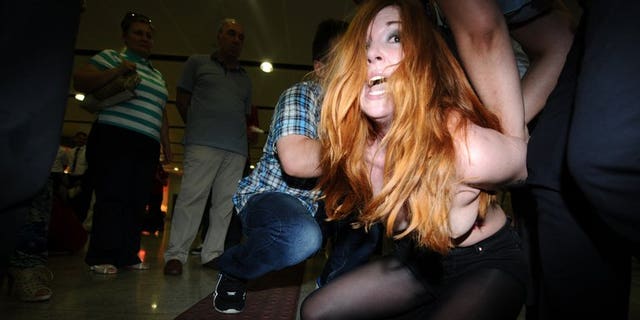 ISTANBUL (AFP) – A feminist activist from the radical group Femen staged a topless protest at an Istanbul airport Friday to denounce Prime Minister Recep Tayyip Erdogan's religious conservatism.
Wearing only mini-shorts and high heels, she performed her stunt inside Istanbul's Sabiha Gokcen airport, on the Asian side of the bi-continental city.
The woman, with the words "Air Dictator" painted in red on her chest, brandished a banner representing a plane ticket that read "Erdogan, from: Istanbul to: Kabul".
Police arrested her after the brief protest.
Femen said in a statement it "urges the people of Turkey, like Egyptians, to overthrow Erdogan's Islamist regime and force Erdogan to relocate to a country close to him in spirit (such as) Iran, Afghanistan and Pakistan."
The group also urged the "lovely Turkish people" to press on with the unprecedented anti-Erdogan protest movement that developed last month on Istanbul's Taksim square.
The nationwide protests left four people dead and scores wounded.
The perceived Islamisation of Turkish society during Erdogan's 10-year-old rule was one of the demonstrators' main grievances.