Ex-bosses cleared in Japan's worst train crash in half century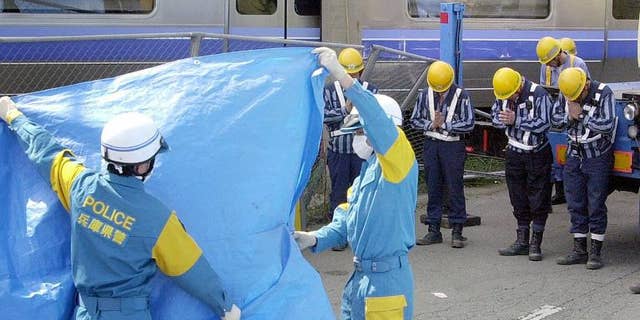 NEWYou can now listen to Fox News articles!
Tokyo (AFP) – Three former presidents of one of Japan's biggest rail operators were Friday cleared of responsibility for a 2005 train crash that killed more than 100 people in the nation's worst rail disaster in half a century.
The three former heads of West Japan Railway (JR West) were all found not guilty of professional negligence over the smash in the western city of Amagasaki, near Kobe, the Kobe District Court ruled.
The accident happened when a commuter train jumped the tracks on a tight bend during the morning rush hour. It ploughed into a residential tower, leaving the driver and 106 passengers dead and injuring 550 people.
The designated attorney, who played a prosecution role after prosecutors dropped the case, had demanded a jail term, arguing that the three -- Masataka Ide, Shojiro Nanya and Takeshi Kakiuchi -- should have anticipated the danger.
The attorney also claimed the accused failed to take proper safety precautions, such as installing a device that could automatically stop a train from travelling too fast.
But the court ruled that the three did not have proper opportunities to recognise the danger and that they were also not legally obliged to install such a device when the accident occurred.
Public prosecutors had stopped short of indicting them, citing a lack of evidence, but a judicial review panel found the decision inappropriate, which led to their indictment in 2010 and the court appointment of a designated attorney.
Friday's ruling came after Masao Yamazaki, another JR West president, was also found not guilty last year over the crash.
The crash was Japan's worst rail disaster since 1963 when 161 people died in Yokohama after a freight train collided with a truck and was then hit by two passenger trains.