Drug lords falling quickly in Mexico, as President Peña Nieto follows Calderón's old playbook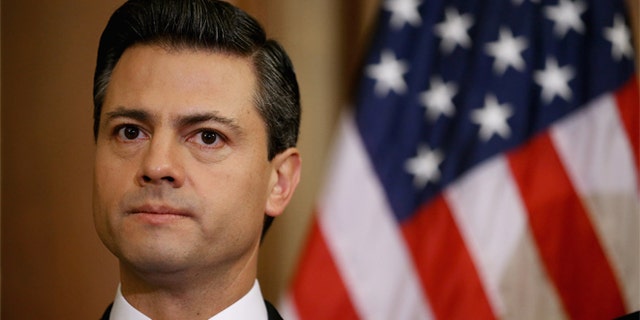 The Mexican government's streak of high profile drug lord arrests in recent months suggest President Enrique Peña Nieto is following his predecessor's drug war strategy.
Seven out of the 11 drug cartel leaders captured or killed over the last six years have occurred during the first two years of Peña Nieto's administration. The number is striking because it suggests he is carrying out former President Felipe Calderón's drug war strategy that he largely lampooned while he was campaigning for president: using federal and military forces to hunt and take down drug cartel leaders – with help from the U.S.
"The way I'd seen it lately, 99 times out of 100, when there is a big fish captured or killed it's because of information that we have passed to them," said a senior U.S. federal law enforcement official, who asked to remain anonymous because of the sensitivity of the relationship between the U.S. and Mexico.
In 2012, Peña Nieto said Calderón's drug war caused an unprecedented amount of cartel violence and he pledged to move away from using the military to pursue drug lords, and instead work on curbing daily crimes such as kidnappings, extortion and murders against Mexican civilians.
U.S. officials worried that the new president would move away from the U.S.-backed strategy of aggressively arresting kingpins and instead create an unofficial truce with the cartels.
The recent arrests suggest otherwise.
"There has been a steady improvement in the last 10 years, and it's gotten even better in the last two or three," the official told Fox News Latino. "There seems to be more political will on their end. They are doing a great job, acting on our intelligence."
The U.S. and Mexico security alliance reached unprecedented levels during Calderón's presidency from 2006 to 2012. U.S. agencies, like the Drug Enforcement Administration and CIA, shared sensitive, real-time intelligence on "high value targets:, the U.S. was granted permission to operate U.S. spy planes in Mexico while providing tech ops like cellphone tracking capabilities, and training for federal and military forces, according to the Washington Post.
But there was a price to pay for trying to dismantle Mexico's growing and ruthless drug cartels.
During Calderón's administration, there were 121,669 homicides – an average of over 20,000 people per year, more than 55 people per day, or just over two people every hour, according to the National Institute of Statistics, Geography, and Information, or INEGI.
Peña Nieto came into power saying he'd had enough of the bloodshed.
There was anxiety on the U.S. about how far this strategy would change, and there was hope from critics who voted for Peña Nieto on the promise that he would find a new way to defeat cartels that did not involve the deaths of so many civilians and the human rights abuses by Mexican military forces.
"There were many difficulties with Calderón, but nonetheless the relationship is as close and the policies Peña Nieto is pursuing are in a sense identical to Calderón," said Vanda Felbab-Brown, a senior fellow at the Brookings Institute, a policy think tank based in Washington, D.C.
Calderón's policies, analysts say, were successful at breaking up large cartels but the end result amounted to more than 80 new, smaller drug trafficking gangs.
"The old cartels had the wield to threaten the integrity of the state, these newer gangs don't approach that level, but the criminal underworld is far less stable than it was in the past," said which means, for any given amount of income, there is probably going to be more violence," said Alejandro Hope, a Mexico City-based security analyst who was a former intelligence officer at the Mexican civilian intelligence agency.
Hope emphasized a quick fix in capturing kingpins is a strategy that is now 10 years out of date, and ineffective. He said these newer groups amount to "something less than a cartel, but something more than a street gang."
Peña Nieto is credited for centralizing Mexico's security operations under the Interior Ministry, according to the Council on Foreign Relations, which has improved coordination allowing the Mexican government to react better to real-time intelligence and capture or kill drug kingpins.
"This is what is paradoxical, Mexico has very significant capabilities to capture kingpins, but capturing kingpins have become less and less important," Hope said, emphasizing that a new strategy is needed.
Peña-Nieto's larger plans on changing the way Mexico fights the drug war have yet to materialize in the way he and critics of the last strategy have hoped. He originally promised to create a 40,000 member militarized police force, the gendarmerie, to replace marines and the army to stop violent crimes. The Mexican government has since said they will leave military troops on the streets because the violence is still too high. The gendarmerie will be nowhere near the size they had hoped and instead mainly patrol rural areas.
"But there is still a lack of strategy to what happens after the arrest of a kingpin is made," Felbab-Brown said. "They are capturing without forethought, without thinking about how they can reposition forces and put deterrents to prevent violence from happening again in a city – they are not engaged in this kind of thinking."
President Peña Nieto has been on a public relations offensive, shifting the government's focus to the economy, and he has been trying to change the international perception and national narrative that his country is nothing but a security risk.
"The only thing he's managed is to get the public attention away from the security program," said Octavio Rodriguez, program coordinator of the Justice in Mexico Project at the University of San Diego. "He's managed to get the executions out of the newspapers."
The disappearance of 43 students in Iguala, Guerrero in September put security front and center again. The protesting students were turned over by the city's mayor and police to members of the local drug cartel Guerreros Unidos, who are believed to have killed them.
The disappearance led to massive protests throughout Mexico, and Peña Nieto has been criticized for mishandling the case. Since the disappearance, four of Mexico's top drug lords have been captured or killed, including the leader of Los Zetas and the leader of the Knights Templar cartel.
"The consequence of Iguala is that his credibility is extraordinary low, there is real pressure for him to demonstrate credibility issues, and penetration of law enforcement," Felbab Brown said. " He just doesn't have any credibility."