Dreamer Under DACA Runs Into Leaf Pile And Kills Two Kids; Deportation Unclear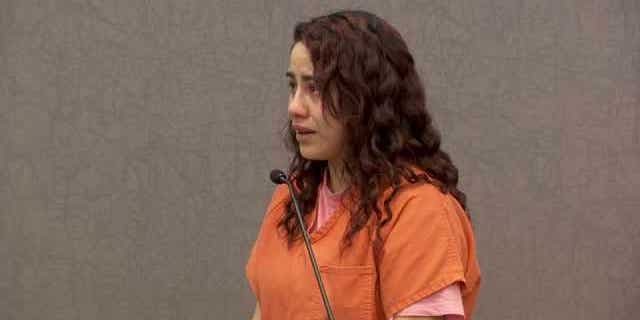 PORTLAND, Ore. (AP) – A 19-year-old Oregon woman who drove an SUV into a leaf pile, accidentally killing two young girls playing in it, has been taken into federal custody and may face deportation.
U.S. Immigration and Customs Enforcement said on Monday that Cinthya Garcia-Cisneros is being placed in removal proceedings and will be held at a detention center in Tacoma while she awaits a bond hearing before an immigration judge.
"The immigration judge will determine whether or not Ms. Garcia-Cisneros remains in detention for the duration of her immigration case," ICE spokesman Andrew Munoz said in a statement.
Garcia-Cisneros was sentenced to three years of probation and 250 hours of community service on Friday. A jury found the woman guilty of two counts of felony hit-and-run earlier this month.
Prosecutors said the crash on Oct. 20 in Forest Grove, 25 miles west of Portland, was an accident. But they say the teen failed to come forward after learning she might have struck the children in the leaf pile, which was on the street. Police found her the following day.
Authorities said the two girls — later identified as stepsisters, 6-year-old Anna Dieter-Eckerdt and 11-year-old Abigail Robinson — were likely concealed by the leaves and not visible to Garcia-Cisneros.
Anna died at the scene. Abigail died later at a Portland hospital.
Minutes after Garcia-Cisneros drove through the leaves on her way home, her brother returned to the scene and saw a man standing over the pile, screaming. The man spoke to him briefly.
The boy went home and told his sister she may have hit two children.
Defense attorney Ethan Levi said Garcia-Cisneros was in a state of shock and denial after learning of the children and fixated on the possibility she wasn't the driver who struck them.
Garcia-Cisneros was brought to the U.S. from Mexico as a 4-year-old. She has temporary permission to be in the country legally under the federal Deferred Action for Childhood Arrivals program, meaning she has a work permit and a Social Security number.
To be eligible for the program, immigrants must prove they arrived in the United States before they turned 16, are under 31 years of age as of June 15, 2012, have been living in the country at least five years, are in school or graduated, and have not been convicted of certain crimes.
Those convicted of a felony offense and some other crimes are generally not eligible for the program.
It's unclear whether Garcia-Cisneros may be eligible for any other immigration benefits that could lead to relief from deportation. Immigration attorney Courtney Carter, who represents the teen, was not available for a comment.
Follow us on twitter.com/foxnewslatino
Like us at facebook.com/foxnewslatino