DNA Experts Cast Doubt on Amanda Knox's Murder Conviction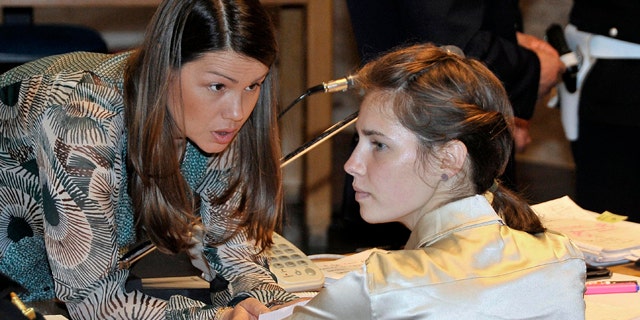 PERUGIA, Italy – American student Amanda Knox's appeal of her 2009 murder conviction gathered strength Monday as two DNA experts took the stand in Italy in a move that could discredit much of the forensic evidence that was integral to her guilty verdict.
Seattle native Knox and her then-boyfriend, Raffaele Sollecito, were sentenced to 26 years and 25 years, respectively, after being convicted of the 2007 murder of British student Meredith Kercher in the home shared by the two women. An Ivorian man Rudy Guede was found guilty of raping and murdering Kercher in a separate trial in 2009 and jailed for 30 years, a sentence upheld during his appeal.
Stefano Conti and Carla Vecchiotti, both professors at Rome's La Sapienza university, were called to discuss their judge-commissioned report -- a 145-page study released June 29 -- which claimed that neither blood nor Kercher's DNA were found on the alleged murder weapon, a knife.
A bra clasp, which was used in the first trial to tie Sollecito to the scene, was deemed by Vecchiotti and Conti to be too rusty to retest -- a step that would be pivotal after their claim that it was likely contaminated during the initial forensic sweep because investigators failed to adhere to international standards.
The "genetic profile, the way it was obtained, appears unreliable in that it is not supported by scientifically valid analytic procedures," the experts said at the time of the report's release, according to TG24. They added that "the results could have come from environmental contamination or contamination in any phase of its collection."
After the report's publication, Knox's attorney, Carlo Dalla Vedova, expressed hope that the new evaluation would work in his client's favor during Monday's hearing, saying that "the test results give a tough hit to the scientific evidence."
Kercher's family reacted by saying it was "surprised by the categorical nature" of Conti and Vecchiotti's assessment, adding that "there is other proof that shows the guilt of the two accused parties."
Monday's hearing at the Perugia Court of Appeals is only the first step in the new analysis of the DNA evidence. The experts will return to the central Italian courthouse Saturday for further examination, with a possible third date -- Aug. 1 -- set in case the first two sessions did not provide enough time, according to Knox's stepfather, Chris Mellas, as reported in the Seattle Post-Intelligencer.
A decision is expected in late September or early October.