Discovery of Nisman's gun raises more questions about Argentine prosecutor's death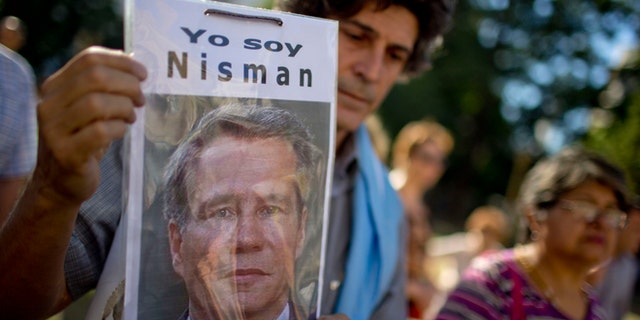 BUENOS AIRES, Argentina (AP) – The discovery of a gun in a storage area raised new questions Wednesday about the death of prosecutor Alberto Nisman, a mystery that has rocked Argentina.
Nisman's former wife, Sandra Arroyo Salgado, said the discovery of the prosecutor's own weapon bolsters her contention that he did not take his own life since he wouldn't have needed to borrow the pistol that did kill him.
The death gun was owned by Nisman aide Diego Lagomarsino, a computer technician who has said Nisman asked to borrow the weapon because he feared for his life and that of his daughters. Investigators say Lagomarsino is not a suspect.
"This changes the investigation," Arroyo Salgado told local station Radio Mitre in talking about the discovery of Nisman's pistol.
Lead investigator Viviana Fein disagreed. "It doesn't change the investigation at all" because it wasn't the weapon that killed Nisman, Fein told radio Vorterix.
Investigators say they have not yet determined whether Nisman killed himself or was slain by someone else a few days after he had accused the president of covering up blame for the country's deadliest terror attack.
Arroyo Salgado and Fein have frequently fought, via declarations to local media, about the investigation. Arroyo Salgado has criticized the slow pace of the probe, and hired her own forensic team to comb Nisman's apartment. That team concluded Nisman was killed.
Nisman's mother, Sara Garfunkel, found the gun recently in a storage room with her son's things and told Fein about it late Tuesday during sworn declarations.
Nearly three months since Nisman was found dead Jan. 18 nobody has been arrested.
Nisman, who for a decade oversaw the investigation into the 1994 bombing of a Jewish community center, launched allegations a few days before he died that President Cristina Fernández had helped Iranian officials cover up their alleged role in the attack.
Fernández has denied the allegations and Iran has long denied any role in the bombing, which killed 85 people. A judge recently rejected Nisman's report laying out his accusations against the president.