Colombia Extradites Drug Kingpin Walid Makled to Venezuela, Spurning U.S.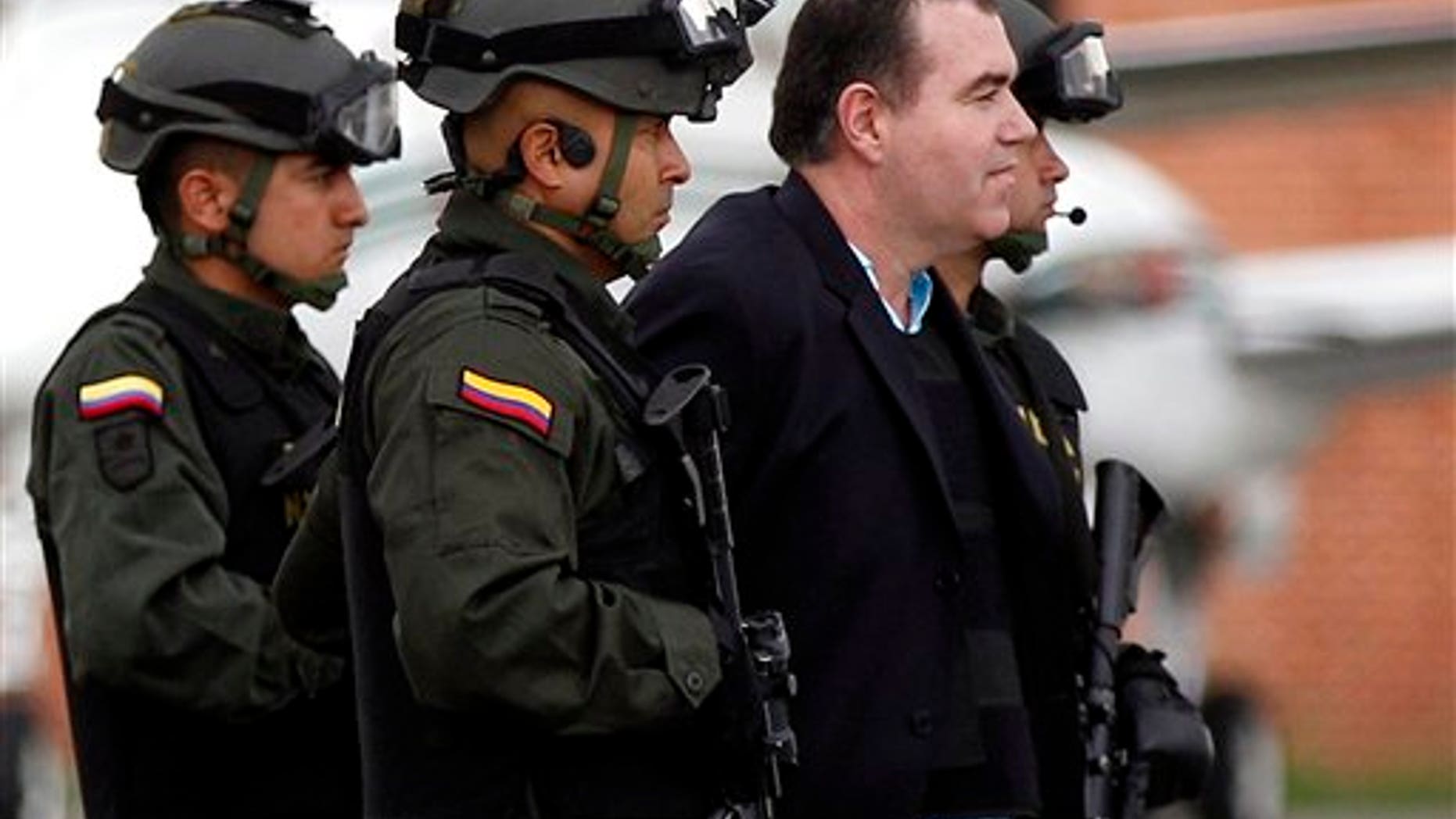 The U.S. wanted him -- but Venezeula is getting him.
Colombia on Monday extradited to Venezuela a man the White House has called an important drug kingpin, sending him to face trial in the very country where he says close associates of President Hugo Chavez were his business partners.
Walid Makled was turned over by Colombian police to Venezuelan officials at a Bogota air base, then led handcuffed aboard a waiting Venezuelan jet.
He faces drug smuggling and murder charges in Venezuela. Miguel Angel Ramirez, his defense lawyer in Colombia, said by phone that Makled plans to plead not guilty before a Venezuelan court.
Makled was captured in August in the Colombian town of Cucuta, on the border with Venezuela.
Both Venezuela and the United States had requested his extradition. Colombian President Juan Manuel Santos decided to turn him over to Venezuela, saying Caracas had made its request first. He also noted that Makled was charged with more serious crimes in Venezuela — not only the drug trafficking of which he was accused by U.S. authorities, but also two counts of murder.
Santos' decision to spurn the U.S. request in favor of Venezuela's also came as he was working to improve badly frayed relations with Chavez that had harmed trade between the countries.
Makled has said in multiple interviews that he paid military and civilian officials in Venezuela in return for government favors, including a major warehouse concession at the port of Puerto Cabello, which is also a key conduit for drug shipments by sea.
Makled has said he handed out about $1 million in payoffs monthly to senior Venezuelan military officials and that there were about 40 recipients, including generals, colonels and majors.
All of the Venezuelan officials Makled has named as having taken his money — presumably to let his drugs leave the country, though Makled has never said this explicitly — have denied his accusations. They say it's a smear campaign.
Defense Minister Carlos Mata Figueroa said recently that authorities will thoroughly investigate all of Makled's claims and that "nothing is going to be hidden here."
Makled said in a TV interview broadcast last month that he had videos proving Venezuela's ruling elite is deeply involved in cocaine trafficking. He said he would disclose only to U.S. prosecutors the videos and other "conclusive evidence" of drug corruption in Chavez's inner circle.
Makled also has said he paid the brother of Justice Minister Tareck El Aissami $100,000. El Aissami has denied the accusation.
Chavez dismissed Makled's claims in October, saying, "I'm sure that he's talking a lot of trash."
Ramirez, the defense lawyer, said when asked whether his client had hoped to be sent to Venezuela or the United States: "definitely Venezuela."
He said he expects Makled's legal rights will be respected and that his defense has prepared "an international strategy ... in the event they don't permit him to exercise his defense and his rights are violated."
Some believe the U.S. missing out on Makled is a big mistake.
The Associated Press contributed to this report.
Follow us on twitter.com/foxnewslatino
Like us at facebook.com/foxnewslatino