Clinton outlines principles to guide post-Assad transition strategy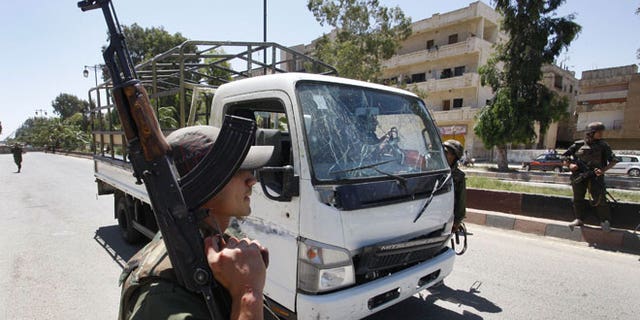 ISTANBUL – The United States and its allies in Europe, Turkey and the Arab world have agreed to work on a political transition plan for Syria, hoping to persuade President Bashar Assad's powerful ally Russia to join a broadened diplomatic effort to ease the embattled leader out of power, a senior U.S. official said.
The push for a structured end to the four-decade Assad regime came late Wednesday at a closed-door meeting of foreign ministers and other top officials in Istanbul, including U.S. Secretary of State Hillary Rodham Clinton. It also coincided with fresh reports of a surge in bloodshed in Syria's central Hama province. At least 23 people were killed, with one activist group reporting as many as 86 dead.
Clinton, according to the U.S. official, outlined a set of principles to guide the post-Assad transition strategy. But with neither Russia nor China present, and both remaining hostile to the idea of global sanctions against the Syrian government or any Libya-style military intervention, it was unclear what effect the show of unity might produce.
Assad's refusal to allow peaceful protest and determination to crack down on any political dissent poses another problem. Some 13,000 people have been killed in Syria over 15 months of repression and later armed rebellion, and a peace plan proposed by United Nations mediator Kofi Annan has failed to halt the violence.
"Given the continuing horrific violence, including today in Lattakia and in Hama, the group obviously talked about increasing the pressure on the Assad regime and those who still support it," said a senior State Department official who briefed on the private discussions on condition of anonymity.
The official described Clinton reciting familiar messages to the group, which included foreign ministers or senior envoys from Britain, France, the European Union, Turkey, Saudi Arabia and 11 other governments. They included the need for international solidarity, increased sanctions, coordinated aid to the opposition and ensuring that Assad hands over authority.
The officials will return to Turkey next week for more talks with Syria's embattled opposition. A full meeting of the Friends of Syria, which includes some 70 governments, will take place July 6 in Paris, and Clinton is expected to attend.
Beyond Assad, Wednesday's discussions appeared to focus as well on Moscow, which has emerged as the central power-broker for any international strategy to solve the ongoing Syrian crisis. Russia and China twice have blocked U.N. sanctions against the Syrian government, and reiterated their opposition to undue Western meddling in Syria during a meeting of their two leaders this week.
"China and Russia strongly oppose any attempt to address the Syria crisis with military interference from the outside or forcefully impose a regime change in the insurgency-ridden country," the official Xinhua News Agency reported after Russian President Vladimir Putin's summit with Chinese President Hu Jintao.
Speaking in Beijing, Russia's foreign minister presented a counterproposal for international action, proposing a conference on Syria but with an emphasis on pressuring opposition groups to respect Annan's peace plan.
Sergei Lavrov criticized the Friends of Syria meetings that the U.S. and its partners have been having for being "devoted exclusively to the support of the Syrian National Council and its radical demands." He said the Russian gathering would, by contrast, put pressure on the Syrian opposition to "end all violence and sit down for talks."
"It's necessary to convene a meeting of the countries, which have a real influence with various opposition groups," Lavrov told reporters. He included Iran as an important contributor.
Speaking earlier in Azerbaijan, Clinton rejected the idea of including Tehran in any international mediation efforts. Iran has maintained a close relationship with Assad, and the Obama administration has frequently criticized it for lending material support to Syrian security crackdowns.
"It's a little hard to imagine inviting a country that is stage-managing the Assad regime's assault on its people," Clinton told reporters.
"It's time for all of us to turn our attention to an orderly transition of power in Syria that paves the way for a democratic, tolerant, pluralistic future," she said. "It's clear that President Assad cannot, and has failed to, bring peace, stability or positive change to the Syrian people and in fact has worked against all three."
Clinton held out hope that Russia and China could play a constructive role. On Thursday, her Syrian envoy, Fred Hof, will travel to Moscow for talks, while U.S. officials say their Russian counterparts have frequently cited the example of Yemen's recently departed dictator, Ali Abdullah Saleh, as a possible model for Syria.
Publicly, at least, the Russians have firmly rejected the need for a regime change.
Annan will brief the U.N. Security Council on Thursday about the state of his peace plan. He meets Clinton a day later in Washington.
In the American capital, officials met to coordinate tougher sanctions against the Syrian regime, with Treasury Secretary Timothy Geithner calling for the world to exert "maximum financial pressure" on Assad.
"Strong sanctions can help hasten the day the Assad regime relinquishes power," he argued, but acknowledged that financial and diplomatic penalties alone cannot bring the needed political change.