Catalan leader rules out early election aimed at defusing Spain tension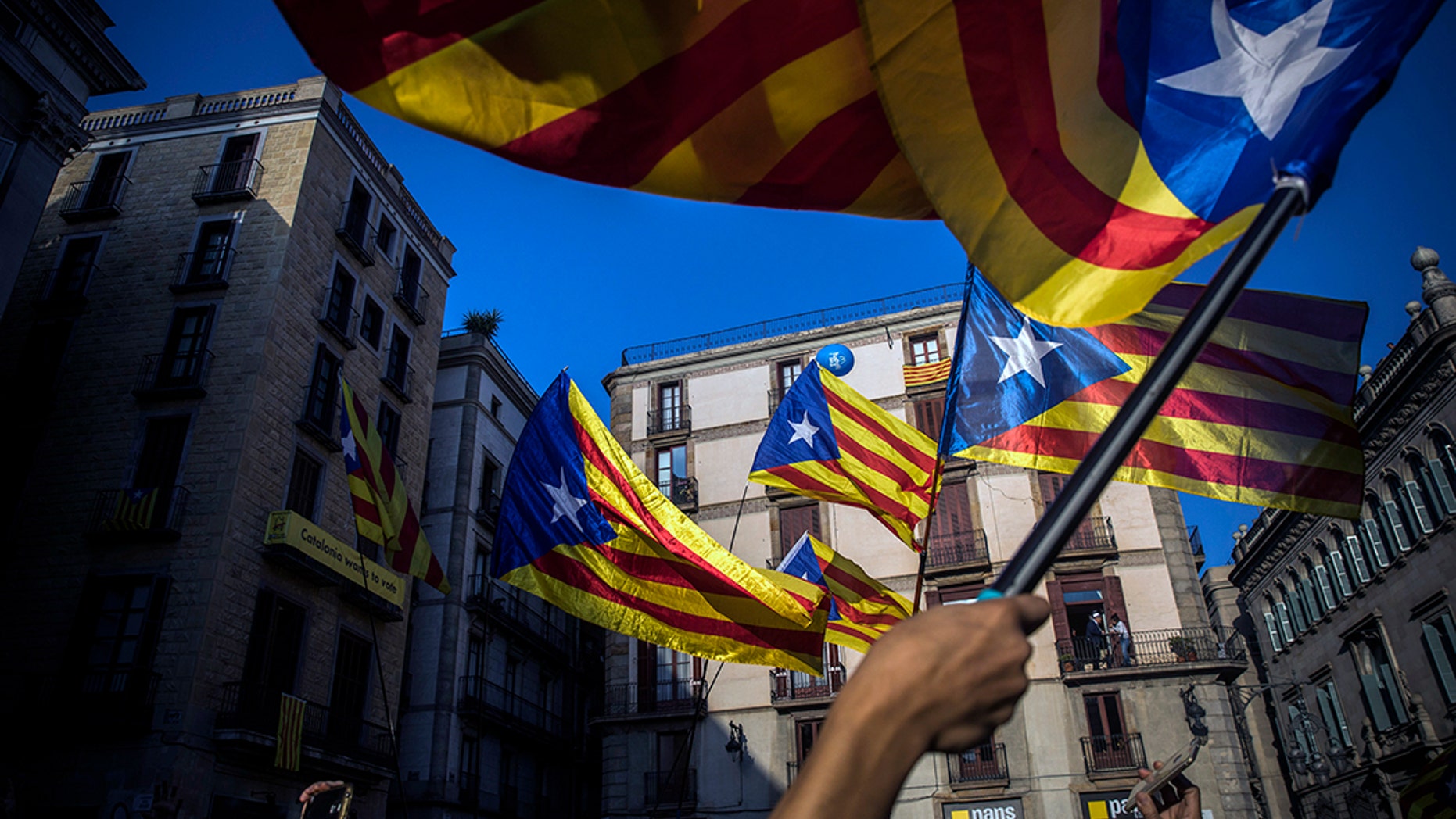 BARCELONA, Spain – The standoff between Spain and Catalonia over the region's move to secede approached a crucial juncture Thursday as the pro-independence Catalan leader ruled out calling an early election that some had hoped would defuse tensions with the Spanish government.
In a hastily called address in Barcelona, regional President Carles Puigdemont said he considered calling a snap election, but chose not to because the government did not provide enough assurance that it would suspend what he termed its "abusive" measures to assume control of Catalonia.
"Consequently I can't organize parliamentary elections," he said. "There is no guarantee that justifies elections."
Puigdemont said it now was up to the existing regional parliament to determine how to respond to the Spanish government's plan to take over significant powers from Catalonia. Regional lawmakers convened shortly after he announced his decision on the election.
"Peace and civility must remain," Puigdemont said. "Only this way, we will be able to win."
Spanish Prime Minister Mariano Rajoy's plan to invoke constitutional authority to remove or limit self-rule in Catalonia is set to be approved during a meeting Friday of the Spanish Senate in Madrid. It would be the first direct intervention by central authorities in the affairs of one of the country's 17 autonomous regions.
Spain's conservative government had initially offered to halt the extraordinary measures if new elections were called in Catalonia, but recently backtracked and said the takeover plan is unstoppable.
Senator Javier Arenas of Rajoy's governing Popular Party said a call for new regional elections would not be enough to stop the Senate.
Earlier Thursday, two parliamentary officials told The Associated Press that Puigdemont had offered through mediators to call the election if the central government dropped the takeover bid, but that the ruling party refused. The officials spoke on condition of anonymity because they were not authorized to speak publicly about the discussions.
It was not clear that an election would have solved Spain's problems with Catalonia anyway, as polls consistently show pro-independence parties would likely win the most seats again.
Catalonia's independence bid has led to Spain's deepest political crisis in the four decades since the country restored democratic rule after Gen. Francisco Franco's dictatorship.
The leadership of Catalonia, a prosperous region of 7.5 million people, has been in a heated political battle with the Spanish government since it scheduled a disputed referendum on independence. Those who voted Oct. 1 were overwhelmingly in favor, but less than half of eligible voters went to the polls in a vote that had been outlawed by Spain's Constitutional Court.
Puigdemont insists the referendum gave him the mandate to declare independence. But so far he has stopped short of proclaiming a new republic, saying he wants to give the Spanish government a chance to negotiate.
The option to call elections was a risky one politically for Puigdemont. Ahead of his statement, a spokesman for the Catalan Republic Left party, or ERC, a separatist party that is part of the Catalan ruling coalition, said the party would abandon Puigdemont's government if he called an election. The spokesman requested anonymity due to the sensitivity of last-minute negotiations.
Puigdemont's center-right PDeCAt party and the ERC have governed in a minority coalition with the parliamentary support of the far-left, anti-establishment CUP party.
Speaking after the president's statement, the CUP insisted it would continue pushing for full secession.
"We will exhaust all the possible means to declare independence," party spokeswoman Nuria Gibert. "We also send a warning that we will not accept any negotiations to maintain the current systems of autonomous regions."
The party called for rallies across the region on Thursday evening.
The opposition Socialist party, which opposes secession, called on Puigdemont to reconsider his refusal to call an early election.
"We heard the president. We would have liked to hear more. We wanted him to call for elections. He still has time, as he well knows," Miquel Iceta, leader of the Socialists in the Catalan parliament, told reporters.
"I am sorry, but this legislature has been an utter disaster," Iceta said later during the parliamentary debate. "We have a divided people, a weakened economy, and a tarnished image internationally."
The head of the opposition in parliament, Ines Arrimadas of the Citizens party, was scathing in her criticism of Puigdemont.
"There is still time to call elections ... We think that the only way forward is to call elections, but we have little faith that you will," she said. "Because you are putting your party and your camp ahead of Catalonia and Catalans. Your government has done the most damage of any government that Catalonia has ever had. No president has put Catalonia in as much danger as you."
The political turmoil came as thousands of students took to the streets to protest Madrid's takeover plans.
Draped in the red and yellow Catalan flag and holding banners calling for independence, the students marched past the Barcelona headquarters of Spain's national police shouting "out with the occupation forces," a slogan that has become ubiquitous in protests since police trying to halt the independence referendum clashed violently with voters.
Some protesters sang "Els Segadors," the official Catalan anthem.
But not all the demonstrators were in favor of independence.
Martina Gallego, 17, said that while she didn't want Catalonia to secede from Spain, she objected strongly to how the Spanish government is treating the region.
"They are taking all our rights of autonomy away," she said. "I'm not in favor of independence, but I don't think this is right."