Cartel believed to be behind kidnapping of 'Chapo' Guzmán's son had quick, violent rise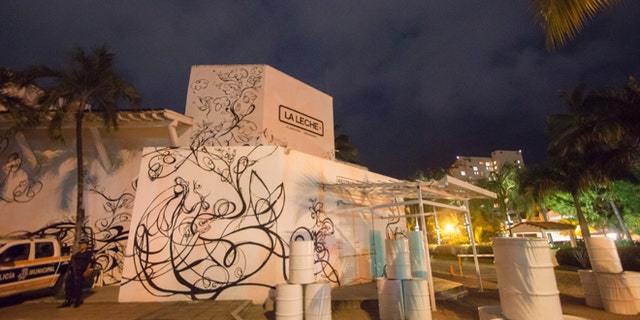 NEWYou can now listen to Fox News articles!
The controversial and mysterious kidnapping of one of Mexican drug lord Joaquín "El Chapo" Guzmán's sons along with five other alleged members of his Sinaloa drug cartel at an upscale restaurant in Puerto Vallarta has led to widespread speculation that a rival group was behind the brazen ambush.
While there has been no official word on who carried out the bloodless kidnapping, and Guzmán's family has not asked the Mexican authorities for help – drug cartels normally like to solve these types of issues between themselves – officials believe the Cartel Jalisco Nueva Generación (CJNG or New Generation Cartel) is responsible for abducting Jesús Alfredo Guzmán and the other men.
Guzmán and his Sinaloa Cartel have for years dominated the Mexican drug trade, CJNG is a relatively new player on the scene. The cartel, however, quickly asserted itself as one of the most violent and powerful challengers to its rivals in the state of Sinaloa.
CJNG is one of the new breeds of organized crime groups cropping up across Mexico in the wake of the government's war against the old guard of cartels – chiefly the Zetas, the Gulf and Sinaloa cartels. The group, which formed in 2010 following the splintering of the Milenio Cartel, was first established with the express purpose of countering the Zetas, but once that group was effectively dismantled, CJNG began to take on other, bigger targets – namely, Guzmán's Sinaloa Cartel and the Mexican government itself.
"What has put [them] on the front page is the willingness of the New Generation Cartel to confront the government," Christopher Wilson, senior associate at the Woodrow Wilson Center's Mexico Institute, told Fox News Latino last year. "It's all about reprisal. It's all about blow-back from the operation against them."
In one week in 2015 alone, the cartel killed 15 – including three soldiers whose helicopter was shot down – and injured 19 more in attacks in the state of Jalisco. They also stopped buses and trucks to block key highways in Guadalajara and other cities and fire-bombed 11 banks and five gas stations in nearly simultaneous attacks.
On another day, CJNG members killed 15 state police officers and a municipal police director, leaving signs on his body warning of future attacks.
In recent months, CJNG has slowed down its attacks on Mexican forces, and it appears to have focused its efforts on the Sinaloa Cartel. The two groups are believed by the Mexican government to be the only "operating and functioning" national cartels, as the death and capture of other high-ranking figures have severely splintered other drug-trafficking organizations.
The kidnapping of Guzmán's son has been taken as a sign that the Sinaloa Cartel's power is one the wane and that CJNG is looking to assert itself as the top player in Mexico's drug trade.
"El Chapo" purportedly ran affairs from prison until his second escape in 2015, but since being recaptured, he has been kept under stricter security. He is currently being held in a prison outside Ciudad Juárez.
Other affronts against the legendary drug capo have been reported in recent months. In June, local media said an armed gang broke into the home of Guzmán's mother and stole vehicles and other goods.
"It doesn't surprise me that they would push to escalate this to the next level," said Samuel Logan, managing partner at the business and security consulting firm, Southern Pulse. "It will be the next week to 10 days are going to confirm that. These guys aren't going to wait around to push back."
There are many, however, who believe that CJNG had nothing to do with the kidnapping of Guzmán's son.
There have been rumors of infighting within the Sinaloa organization – something unheard of when Chapo was out of prison – and the June attack on his mother's home appears to have been the work of Guzmán relatives known as "El Guano" and "El Mochomito." There has also been talk of a rift between Ismael "El Mayo" Zambada García – Guzmán's old cartel partner – and his sons, Jesús Alfredo and Iván Archivaldo Guzmán.
Murmurs have leaked out of Mexico that Iván was also kidnapped at La Leche restaurant, but investigators say they have not found "sustainable evidence" to back up that claims.
If Iván also turns out to be one of those taken, the kidnappers would have two of the sons rumored to be taking over parts of El Chapo's empire.
"People have information about the family's movements, and they want to destroy the family," Raúl Benítez, a security specialist who teaches political science at the National Autonomous University of Mexico, told FNL.