Cambodian opposition leader to return from exile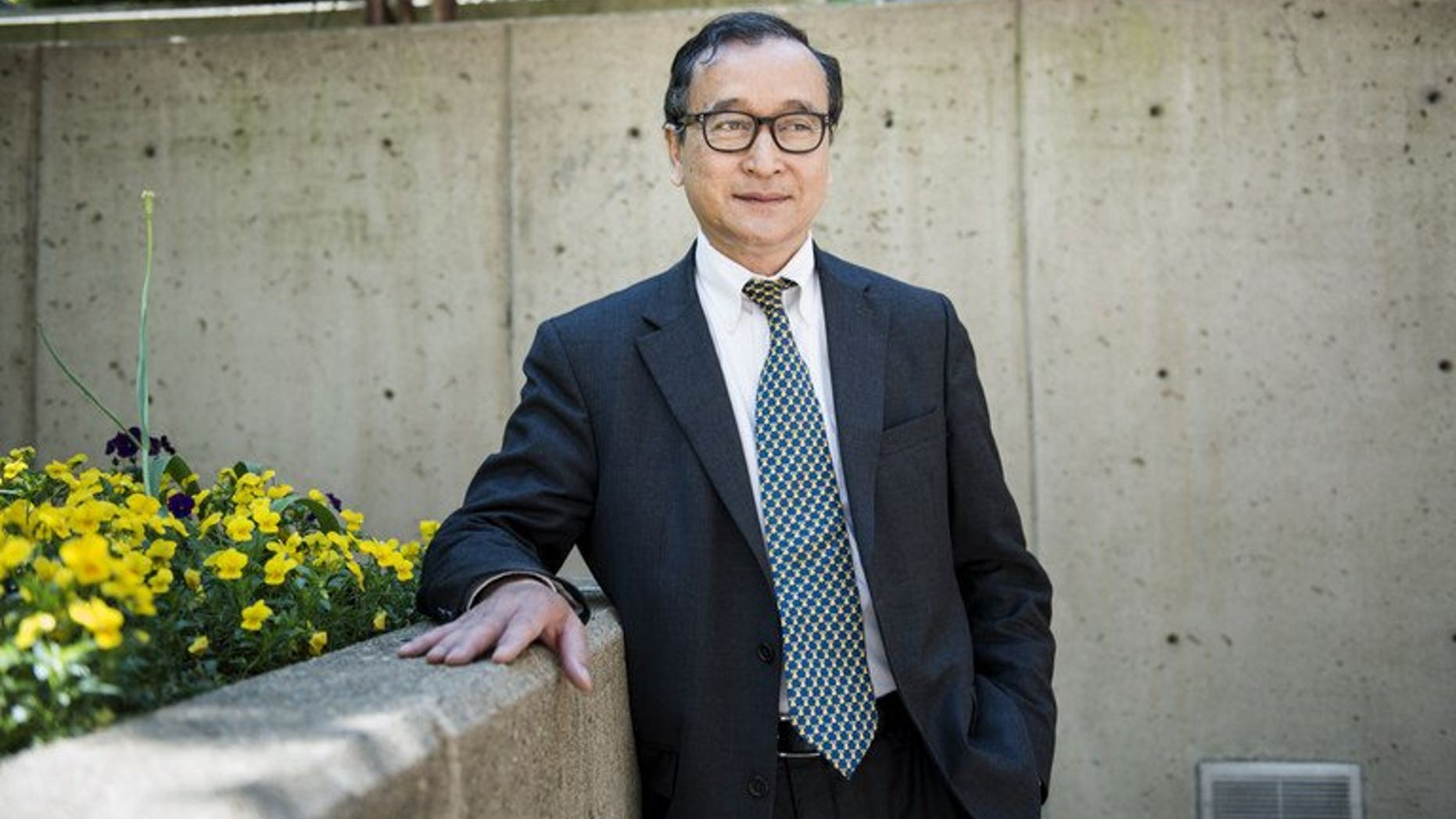 PHNOM PENH (AFP) – Cambodia's newly pardoned opposition leader is set to return from exile on Friday to join his party's bid to end Prime Minister Hun Sen's nearly three decades in power.
Supporters predict tens of thousands of people will welcome home Sam Rainsy, a French-educated former banker who fled in 2009 to avoid charges he contends were politically motivated.
"We expect some 40,000 people to greet him," said Yim Sovann, a spokesman for the opposition Cambodia National Rescue Party (CNRP).
Crowds will line the road from the airport and gather at Democracy Park where Rainsy will speak, he said.
"His presence will galvanise activists and voters."
Rainsy will hold a press conference at the airport after his return from France, expected at 9.05 am (0205 GMT) on a Thai Airways flight from Bangkok.
The 64-year-old had faced 11 years in jail but was pardoned by King Sihamoni last week at Hun Sen's request, clearing the way for his return ahead of elections on July 28.
US lawmakers have called for the United States to cut off aid to Cambodia unless the polls are free and fair.
Rainsy told AFP last Friday that he was "very happy" to be able to return to Cambodia, adding that the pardon was "a small victory for democracy" but also warning that "much more remains to be done".
The opposition leader, who is seen as the main challenger to strongman Hun Sen, has been removed from the electoral register and as a result is unable to run as a candidate this month unless parliament amends the law.
But he will hit the campaign trail soon after his return to try to boost support for his party.
Sovann said the CNRP would discuss possible ways to register Rainsy as a candidate after his return.
The UN's special rapporteur on human rights in Cambodia, Surya Subedi, on Monday urged Cambodia to let Rainsy play a "full part" in politics.
Rainsy left his homeland and moved to Paris aged 16 after the disappearance of his father, which historians blame on agents contracted to then-dictator Lon Nol.
After earning an MBA from France's INSEAD Business School, he worked for various banks in Paris before setting up his own accountancy firm.
He returned to Cambodia in 1992 and briefly held the post of finance minister.
He fled in 2005 after Hun Sen pressed defamation charges against him but received a royal pardon the following year and returned to the kingdom.
He left Cambodia once again in 2009 and was convicted in his absence for charges including inciting racial discrimination and disinformation.
Hun Sen's government is regularly accused of suppressing political freedoms and muzzling activists.
One of Southeast Asia's longest-serving leaders, his Cambodian People's Party (CPP) won the last two polls by a landslide amid allegations of fraud and election irregularities.
In May Hun Sen said he would try to stay in power for another decade, until he is 74. He had previously vowed to hold office until he reached 90.
While voters -- especially those from poor, rural areas -- may admire Rainsy they find it hard to identify with him given his background, said independent political analyst Chea Vannath.
Unlike Hun Sen, Rainsy neither experienced the Khmer Rouge's reign nor helped to liberate the country from the brutal regime, she said.
"Rainsy had better opportunities to pursue his education while Hun Sen stopped studying to join the liberation movement in the 1970s," she added.