British cops filmed dancing with climate protesters are blasted by their bosses for 'unacceptable behavior'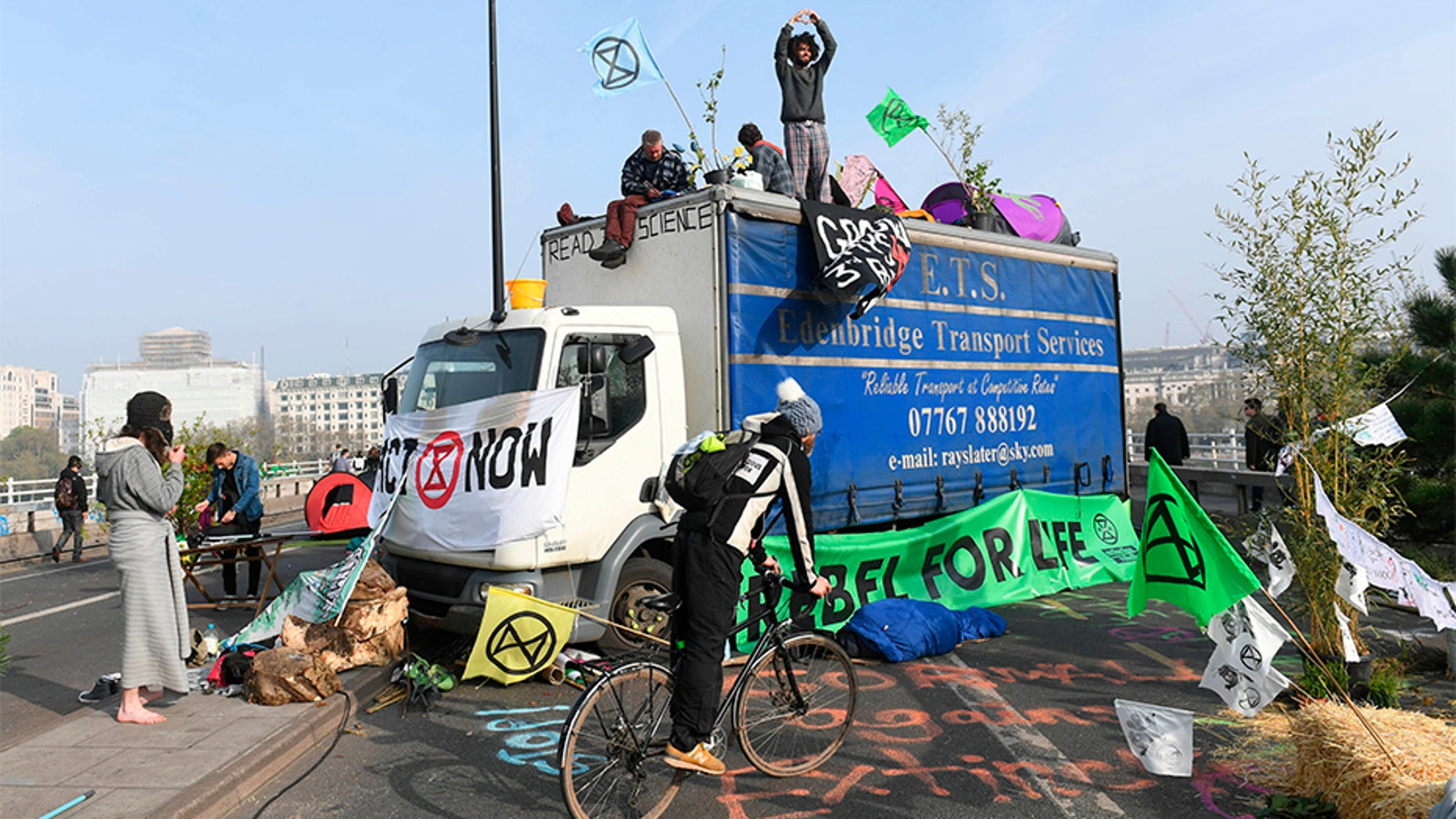 A pair of British police officers are being blasted by their bosses for "unacceptable behavior" Thursday after being caught on video dancing amongst a crowd of climate activists who have been snarling traffic and public transit in London this week.
Footage that surfaced on Twitter Wednesday showed the cops breaking out their dance moves to cheers and chants of "We love you!" by members of the Extinction Rebellion group.
"I'm disappointed by the video and the unacceptable behavior of the officers in it," Scotland Yard Commander Jane Connors said after viewing it. "We expect our officers to engage with protesters but clearly their actions fall short of the tone of the policing operation at a time when people are frustrated at the actions of the protesters.
"We will be reminding officers of their responsibilities and expectations in policing this operation - however the majority of officers have been working long hours and I am grateful to them for their continued commitment," she added.
CLIMATE CHANGE PROTESTERS BRING LONDON TO A HALT
Another video circulating on Twitter purportedly shows a police officer skateboarding on a bridge over the chalk message "CLIMATE JUSTICE NOW", while others look on.
As of midday Thursday in London, the city's busy Waterloo Bridge and other roads remain shut down because of the ongoing protests, which Extinction Rebellion says are aimed at getting the British Parliament to take further action on addressing climate change.
On its website, the group demands that Parliament "act now to halt biodiversity loss and reduce greenhouse gas emissions to net zero by 2025", while also pushing for them to "create and be led by the decisions of a Citizens' Assembly on climate and ecological justice."
Protesters claiming to be from the group – who deem themselves "rebels" -- have glued themselves to trains and set up roadblocks throughout the U.K.'s capital.
The Metropolitan Police have detained more than 300 of them since Monday, according to the Associated Press, and financial analysts say the protests are causing business to plummet in central London. One analyst told the news agency that spending is down 25 percent there and on Tuesday alone, $16 million fewer dollars were spent than usual.
Some critics are also pointing out that despite wanting to save the Earth, the climate protesters are actually doing harm to it by snarling more environmentally-friendly public transit systems and forcing cars and buses to idle in gridlock traffic – and therefore belch exhaust into the atmosphere – as a result of their disruptions and roadblocks.
"It is absolutely crucial to get more people using public transport, as well as walking and cycling, if we are to tackle this climate emergency - and millions of Londoners depend on the Underground network to get about their daily lives in our city," London Mayor Sadiq Khan tweeted about the protests.
He added that "targeting public transport in this way would only damage the cause of all of us who want to tackle climate change, as well as risking Londoners' safety and I'd implore anyone considering doing so to think again."
Farhana Yamin, a protester who was arrested on Tuesday, apologized to Londoners on BBC Radio 4 but insisted that such actions are justified.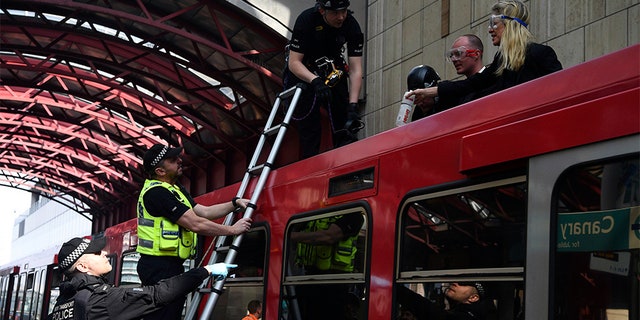 CLICK HERE TO GET THE FOX NEWS APP
"I totally want to apologize to people using public transport. But at the same time we need to take actions that are disruptive so everyone understands the dangers we're facing right now," she said.
"I'm not someone who goes out on to the streets and disrupts and gets arrested for no reason at all. But I feel people should understand that we are at a critical moment in our humanity's history."
Fox News' Lukas Mikelionis contributed to this report.