Brazilian senator appointed to look into Rousseff's case recommends impeachment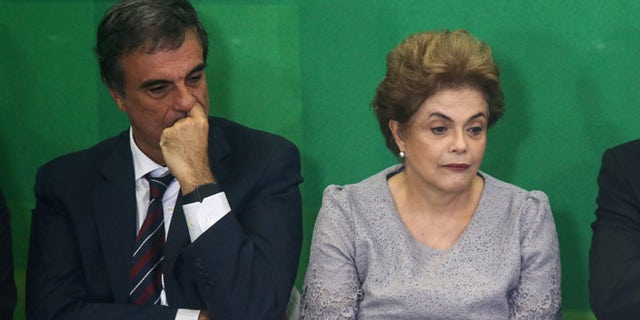 NEWYou can now listen to Fox News articles!
RIO DE JANEIRO (AP) – A senator selected as a fact-finder by a special Senate commission considering the impeachment of Brazilian President Dilma Rousseff recommended Wednesday that she be put on trial for possible removal from office.
The Senate's website said Sen. Antonio Anastasia made the recommendation for a Senate trial in a 126-page report he presented to the 21-member commission.
Rousseff is facing impeachment over allegations her administration violated fiscal laws by shifting around government funds to plug holes in the budget. Her critics say it was done to prop up flagging support before elections. Brazil's first female president insists the procedure amounts to an attempted coup against her.
The full Senate is scheduled to decide whether to try Rousseff in a vote next Wednesday. If a majority of senators, or 41 out of 81, vote in for impeachment, Rousseff will be suspended from office for up to 180 days as a full impeachment trial goes ahead. Vice President Michel Temer would become the interim president.
Meanwhile, Brazil's attorney general has asked the country's highest court to authorize an investigation into Rousseff over obstruction of justice allegations, according to major Brazilian news organizations.
The country's top newspapers and the Globo television network said late Tuesday that Rousseff was among 30 people targeted by Attorney General Rodrigo Janot's requests. Others include former President Luiz Inácio Lula da Silva and Solicitor General José Eduardo Cardozo as well as opposition politician Aecio Neves, who lost to Rousseff in the 2014 presidential race, and House Speaker Eduardo Cunha.
The attorney general's office, which needs the Supreme Court's permission to investigate legislators and high-level government officials, declined to comment on the reports.
The media stories said Rousseff is suspected of trying to undermine the snowballing investigation into corruption at the state-run oil company Petrobras by appointing her predecessor, Silva, as her chief of staff this year. Silva's nomination was later suspended.
The newspaper o Globo in Rio de Janeiro reported that Janot's request accuses Silva of being the ringleader behind the scheme that saw big construction firms pay bribes in exchange for inflated contracts with Petrobras, with some of the money ending up in the coffers of political parties across the ideological spectrum. The case has already ensnared leading politicians and businessmen.
"This criminal organization could never have functioned for so many years and in such a wide and aggressive manner within the federal government without ex-President Lula's taking part in it," the newspaper quoted Janot's petition as saying.
The reports said the attorney general's requests grew out of the plea bargain testimony by Sen. Delcidio do Amaral, formerly the government's leader in the Senate who was detained after recordings emerged suggesting he was plotting to spirit a key player in the Petrobras scandal out of the country.
Silva and Rousseff have repeatedly denied any wrongdoing.
Rousseff on Wednesday sought to cast doubt on Amaral's testimony, saying the senator "is in the habit of lying."
She added that the leaked news of Janot's requests appeared to have been timed to do maximum damage to her and her close collaborators.
Teori Zavascki, the Supreme Court justice in charge of the Petrobras investigation, will decide whether to grant Janot's requests. The news reports said there is no timetable for a decision.
Like us on Facebook
Follow us on Twitter & Instagram