As army moves out, pacifying police move into sprawling Rio favela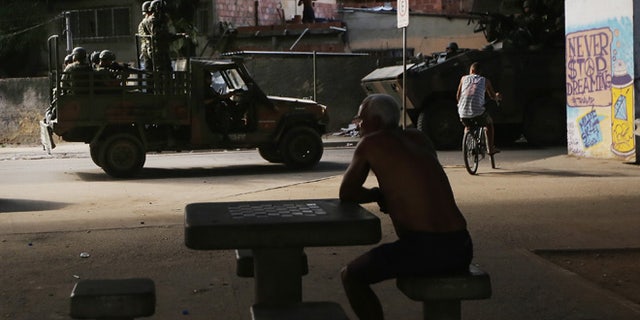 NEWYou can now listen to Fox News articles!
RIO DE JANEIRO (AP) – Police on Friday began replacing the soldiers stationed as a "pacifying force" in part of the sprawling Mare slum, the Rio de Janeiro state government said in a statement.
The move switching in police for soldiers began early Friday in four of the 16 shantytowns that make up the Mare complex, which is near Rio's international airport and sandwiched between three key expressways. It was the second phase of the transition, which took place in two other slums in Mare last month.
Army soldiers moved into Mare about a year ago under a pacification program meant to push out drug trafficking gangs that ruled the slums for decades.
The program is seen as key to bringing security to violent Rio before the city hosts the 2016 Olympics, but it has recently come under criticism.
Residents of some "pacified" slums have accused police of brutality, and several highly publicized cases of officers killing unarmed residents have emerged.