Anti-Putin rally held in his hometown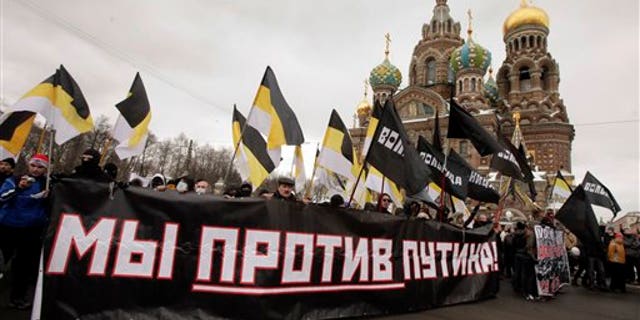 ST. PETERSBURG, Russia – About 3,500 people demonstrated against Vladimir Putin on Saturday in Russia's second-largest city a week before presidential elections in which he seeks to return to the Kremlin.
The protesters marched through St. Petersburg's streets, chanting slogans against the prime minister, including "Putin is a thief," before gathering at a square. Police presence was heavy, but no arrests were reported in the rally, which had official sanction.
The turnout was smaller than many of the demonstrations that broke out in Russia after fraud-tainted parliamentary elections in December. Several protests in Moscow have drawn 50,000 or more, the largest show of public anger in post-Soviet Russia.
Putin, who was Russian president in 2000-2008, is widely expected to win against four challengers in the March 4 election.
But the unprecedented wave of protest has undermined his carefully cultivated image of a man who rules with both steely control and the affection of his people. Although Russia has prospered under Putin, Russians became increasingly dismayed by the stifling political climate he engineered.
"I came here because I want fair elections ... We have monarchy and not democracy in our country, and we should be honest about that at least, and say that we have monarchy," said one of the protesters, 40-year-old lawyer Irina Mitrophanova.
"I want our country, my children and grandchildren, to live better. I don't want them to feel like slaves," said another demonstrator, retiree Irina Stepanova.
The protest movement draws much of its support from Western-oriented liberals, and it is unclear whom among Putin's challengers they would support. Billionaire and New Jersey Nets owner Mikhail Prokhorov is the most liberal, but some suspect his candidacy is essentially a Kremlin strategy to siphon off votes from other challengers.
Before Saturday's rally, one of the protest movement's most popular figures, anti-corruption activist Alexei Navalny, told reporters that the opposition's position is "we must vote for any candidate but Putin."
A candidate needs at least 50 percent of the nationwide vote to win outright; otherwise the top two would face off in a second round. Being forced into a runoff would seriously weaken Putin, even if he ultimately emerged as the victor.
Sergei Udaltsov, a leader of the opposition Left Front movement, told the crowd on the square in St. Petersburg that new protests should erupt if the election does not go into a runoff.
"If we are deceived again on March 4, then on March 5 we should begin to strike," he said.
Besides Prokhorov, the challengers to Putin are Communist Party chief Gennady Zyuganov, ultranationalist Vladimir Zhirinovsky and socialist Just Russia leader Sergei Mironov.
On Sunday, opposition activists in Moscow aim for a visually striking protest -- a chain of tens of thousands holding hands along the Garden Ring, a 10-mile network of wide avenues encircling central Moscow.