Anne Sacoolas, wife of US diplomat, formally charged in death of British teenager
NEWYou can now listen to Fox News articles!
Anne Sacoolas, the wife of an American diplomat, was charged Friday with causing the death of a British teenager in a crash earlier this year.
Harry Dunn, 19, was killed in August after a car struck his motorcycle near RAF Croughton, a British military base west of Milton Keynes that's home to a signals intelligence station operated by the U.S. Air Force.
"Following the death of Harry Dunn in Northamptonshire, the Crown Prosecution Service has today authorized Northamptonshire Police to charge Anne Sacoolas with causing death by dangerous driving," it announced Friday.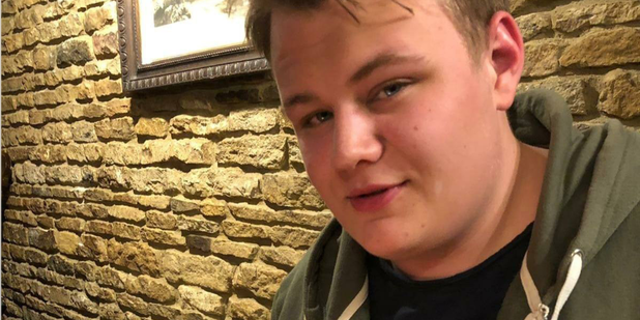 Sacoolas is a mother of three and the wife of Jonathan Sacoolas, who works at the U.S. base. Following the crash, British police said Sacoolas indicated to them that she didn't plan to leave the country in the near future, but she returned to the U.S., circumventing the investigation and claiming diplomatic immunity.
HARRY DUNN'S PARENTS MEET WITH PRESIDENT TRUMP
Radd Seiger, a spokesperson for the Dunn family, told Fox News on Friday that the family "feels relief" that the charges have been announced.
He described Sacoolas' departure from the U.K. as a "body blow to them".
"We have worked incredibly hard to get that reversed -- today is just the start of that process," Seiger said. "This lady is entitled to a fair trial."
The Crown Prosecution Service on Friday said it had started extradition proceedings against Sacoolas, but it appears unlikely that the U.S. will send her back to the U.K.
"It is the position of the United States government that a request to extradite an individual under these circumstances would be an egregious abuse," a U.S. State Department spokesperson told Fox News. "The use of an extradition treaty to attempt to return the spouse of a former diplomat by force would establish an extraordinarily troubling precedent."
The spokesperson added that the State Department is "disappointed" by today's announcement and fear that it will not bring a resolution closer.
"The United States has been clear that, at the time the accident occurred, and for the duration of her stay in the U.K., the driver in this case had status that conferred diplomatic immunities," the spokesperson said.
Sacoolas' lawyer also said her client will "not return voluntarily to the United Kingdom to face a potential jail sentence for what was a terrible but unintentional accident."
"This was an accident, and a criminal prosecution with a potential penalty of fourteen years imprisonment is simply not a proportionate response," Amy Jeffress said in a statement. "We have been in contact with the U.K. authorities about ways in which Anne could assist with preventing accidents like this from happening in the future, as well as her desire to honor Harry's memory."
Jeffress said Friday that "the site of the accident was the crest of a small hill, so Anne could not see Harry approaching on his motorbike." After the crash on Aug. 27, Sacoolas stayed at the scene and spoke with investigators, she added.
Dunn's mother and stepfather met with President Trump at the White House in October, telling reporters afterward that the president had offered to have them meet with Sacoolas, who was in the next room.
US DIPLOMAT'S WIFE LEAVES THE UK AS POLICE INVESTIGATE DUNN CRASH
Seiger said Trump "extended his condolences, I thought perfectly appropriately and made it clear that he understood the family situation."
But, he added, Trump's offer to have the family meet with Sacoolas surprised them.
"That did take us by surprise because we had resolved that that's not something we were prepared to do at this moment," Seiger had said. "This family is still emotionally shut down."
"We were a bit shocked," added Dunn's mother, Charlotte Charles. "It's not appropriate to meet her without therapists or mediators, let alone for us as a family, but also for her. I don't think it's appropriate for her. How can it be comfortable for her to be thrown into a situation like that without therapists or mediators?"
Charles said that although she felt Trump was being "sincere" in his appeal to her, offering condolences to her family and even holding her hand, she added that "they were trying desperately to get us to, not give in, but to accept the invitation to meet her on their terms, which we weren't willing to do."
Charles said she is willing to meet Sacoolas "on our terms, on U.K. soil," but until the U.S. government agrees to send Sacoolas back, they are unwilling to do so.
CLICK HERE TO GET THE FOX NEWS APP
"It was certainly, I think, not a bad meeting," Seiger had said. "But we are no further on in terms of getting what we want, which is having Mrs. Sacoolas return to the U.K. and in fact, that was made pretty clear to us at one point that was never going to happen."
Diplomatic immunity usually only covers diplomats and their dependents based in London. But a special agreement has been in place since 1994 that covers diplomats working at RAF Croughton, according to Sky News.
Fox News' Vandana Rambaran, Marcus DiPaola and Lillian LeCroy contributed to this report.