Aid groups accuse U.N. of siding with Assad as Aleppo siege looms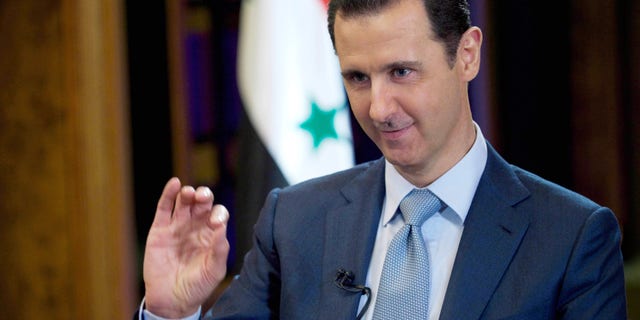 NEWYou can now listen to Fox News articles!
Escalating Russian and Syrian regime air attacks and a virtual cut-off of supplies to the northern Syrian city of Aleppo are threatening to make the worst humanitarian crisis since World War II even more disastrous, according to aid groups, many of which believe the United Nations has been siding with President Bashar al-Assad at the expense of hundreds of thousands of starving citizens.
Aleppo, the biggest center of resistance to the Assad dictatorship, is facing hundreds of air attacks and is almost encircled by hostile forces. Bombings and assaults have apparently also increased substantially in other besieged areas where, according to the United Nations, a trickle of aid supplies have finally gotten through, after months and even years of U.N. inaction.
While the violence escalates, frustrations are rising with those long-ineffectual U.N.-led efforts to get little more than a token amount of aid to a million already-besieged Syrians, who are mostly surrounded by Assad regime forces, as U.N. sponsored peace talks remain in a diplomatic coma.
Increasingly, Syrian aid organizations are charging the U.N. with taking sides with the Assad regime in the five-year-old conflict, delivering the vast bulk of its billions in humanitarian aid only to government-controlled areas and letting the regime have an effective veto over aid deliveries outside its zone of control—a conclusion that has been echoed in the U.N.'s own internal evaluations.
For its part, the U.N. is starting to claim that the long period of blocked aid supplies inside contested areas of Syria is starting to end.
At a brief press briefing yesterday, U.N. Deputy General Jan Egeland declared that supply convoys have recently reached 15 of 18 areas considered by the U.N. as besieged—others consider more than 40 to be in or near that condition—called it "a big step forward, compared to two out of 15 throughout 2015." The U.N., he said, hopes to reach the remainder "either partially or fully, either once or several times," in "coming days."
At the same time, Egeland acknowledged that "we are acutely aware that it is partial delivery." Medical supplies, especially surgical equipment and burn equipment, were still being removed from shipments, he said—and most importantly, "not a single siege has been lifted on our watch."
"Things are getting worse," asserted Valerie Szybala, executive director of the Syria Institute, a non-partisan think tank studying the conflict, who told Fox News that increased attacks on long- beleaguered Syrian communities were a sign they were being "punished" for the few U.N. aid deliveries that had recently gotten through.
Szybala pointed to the southern community of Daraya, cut off from food and medical assistance for four years by the Syrian regime, which finally received a U.N. aid convoy on June 9. Daraya has since been hit, she said, by some 60 Syrian regime barrel bombs per day.
A new Siege Watch report jointly sponsored by Szybala's organization and a Dutch peace group, Pax, among other things charges that the "without international action to break, de-escalate, or seek criminal accountability for the sieges being waged against civilians in Syria," the numbers affected will continue to grow.
CLICK HERE FOR THE SIEGE WATCH REPORT
Certainly that was looking more likely in Aleppo, where some 300,000 civilians opposed to the regime could be trapped by the tightening encirclement, according to Syrian medical workers, and casualties are mounting.
Military experts consulted by Fox News note that the latest Russian and Syrian regime assaults on the pro-resistance sections of the city are not leaving any escape corridors for civilians to flee the violence, as they have at other locations in the past.
"They are setting conditions for the full encirclement of the city," said Genevieve Casagrande, an analyst at the Washington-based Institute for the Study of War (ISW), a tactic that her colleague, Jennifer Caffarela, put down to the "rag-tag" capabilities of Assad regime ground forces, which have "a difficult time reclaiming urban territory."
At the same time, the ISW analysts saw Russian warplanes as taking an increasingly aggressive role in the Aleppo campaign. "In the past," observed Casagrande, "the Syrian regime has targeted civilian targets because they did have the ability to be precise. The Russian forces have that ability, and they are precisely targeting civilians."
Indeed, "aerial attacks and bombs are targeting everything alive in the city," according to Dr. Osama Abo El Ezz, General Surgeon and Aleppo Coordinator of the Syrian American Medical Society, who spoke to journalists earlier this week at a teleconference arranged by the U.S.-based humanitarian organization Mercy Corps.
"Any assembly for civilians, be it a market, a street market, a school, is a direct target," El Ezz said, adding that hospitals and community centers have also been struck.
In all, El Ezz and two medical colleagues on the teleconference—one of them had just emerged from performing surgery at an underground facility in Aleppo—claimed that some 600 air assaults, including nearly 300 air-to-ground rocket attacks, had taken place in the previous week, leaving 47 dead, including women and children. Many more have severe injuries that leave them unlikely to survive.
They described a situation of unremitting agony, where only three trauma centers and two other hospitals, staffed by no more than 25 doctors, remain to deal with the carnage, where decisions to let victims die of their wounds are made on the spot, and where basic utilities, like electricity, are lacking.
"Since the Russian intervention and the continued Russian shelling of Aleppo, the nature of injuries has worsened dramatically," said El Ezz. "This might be because of the nature of the weaponry that the Russian airforce is using in their shelling and attacks. Most of the injuries are usually multiple injuries."
At least two of the hospitals were also attacked in the past week alone, according to a doctor in Aleppo, known only by the pseudonym of Abdulaziz and described as research director of the Union of Medical Care and Relief Organization.
"If this continues like this we [will] run out of all of hospitals inside our city," Abdulaziz said.
All of the medical workers agreed that Russian as well as Syrian air forces were involved in the deliberate civilian attacks, although they could not offer specific examples.
The concern about deliberate targeting is now so great, the medical workers said, that hospitals no longer provide their location coordinates to United Nations humanitarian coordinators—a method formerly used to guarantee they would not be struck in bombing raids.
"Every time we think that the situation in Syria can't get worse we're proven wrong," declared Andrea Koppel, Mercy Corps' vice president of global engagement and policy, who chaired the teleconference. Mercy Corps normally provides assistance to some 570,000 people monthly in Syria, including about 75,000 in Aleppo.
She called for "unfettered and sustained access" for humanitarian organizations everywhere in Syria to carry out their relief work--but something like the very opposite seemed in the cards, certainly in Aleppo.
In fact, Koppel said, "last week we sent in 31 trucks of humanitarian aid into northern Syria but we weren't able to send a single one into Aleppo city." A combination of the Russian and Assad regime air attacks and anti-tank weapons have meant that relief convoys no longer can travel the road to the city without assault.
According to Assaad al Achi, executive director of Baytna Syria, a Danish –supported civil society movement, nothing bigger than a small car can make the trip, and even then, drivers call the last remaining major road into Aleppo "the road of death."
(Mercy Corps officials said, however, that they had managed to stockpile perhaps a month's worth of food supplies in Aleppo in advance of the supply cutoff—but that would only be for 75,000 people.)
"What's happening in Aleppo is a source of shame for the international community," summarized El Ezz.
Increasingly, Syrian aid organizations that oppose the regime, and a number of their international counterparts, feel that what is happening ought to be a source of shame for the U.N.
In a report released yesterday, a coalition of 58 Syrian organizations specifically called out the world organization for "a serious breach of the humanitarian principles of impartiality, independence and neutrality" in its Syrian operations, due to its excessive kow-towing to the Assad regime.
Among other things, they charged the world organization with low-balling the number of people in besieged areas around the country who needed humanitarian aid, and of knuckling under to regime threats that it would end permission for U.N. operations to continue in Syria if it did not follow regime orders on where to deliver humanitarian assistance and where to ignore humanitarian needs.
Early attempts to bypass the Assad regime's refusal to allow humanitarian aid to be channelled anywhere except through the capital, Damascus, their report says, "were actively opposed by parts of the U.N."
Even though U.N. officials often cited safety concerns in failing to send aid to towns where the regime opposed delivery, the report notes, "the U.N. has driven through towns that have not received aid in months in order to deliver aid to other towns."
The Syrian organizations urged Secretary General Ban Ki-moon to "draw a line" with the Assad regime to "focus on the impartial delivery of aid to those most in need." Failing that, the report recommended that the U.N. "should withdraw from cooperation with the Syrian government."
Instead, it looked like the regime and its sponsors were redrawing the battle lines to deprive additional tens of thousands of Syrian civilians of humanitarian support.
George Russell is editor-at-large of Fox News and can be found on Twitter: @GeorgeRussell or on Facebook.com/George Russell