Afghan betrayal calls into question viability of US military strategy in Afghanistan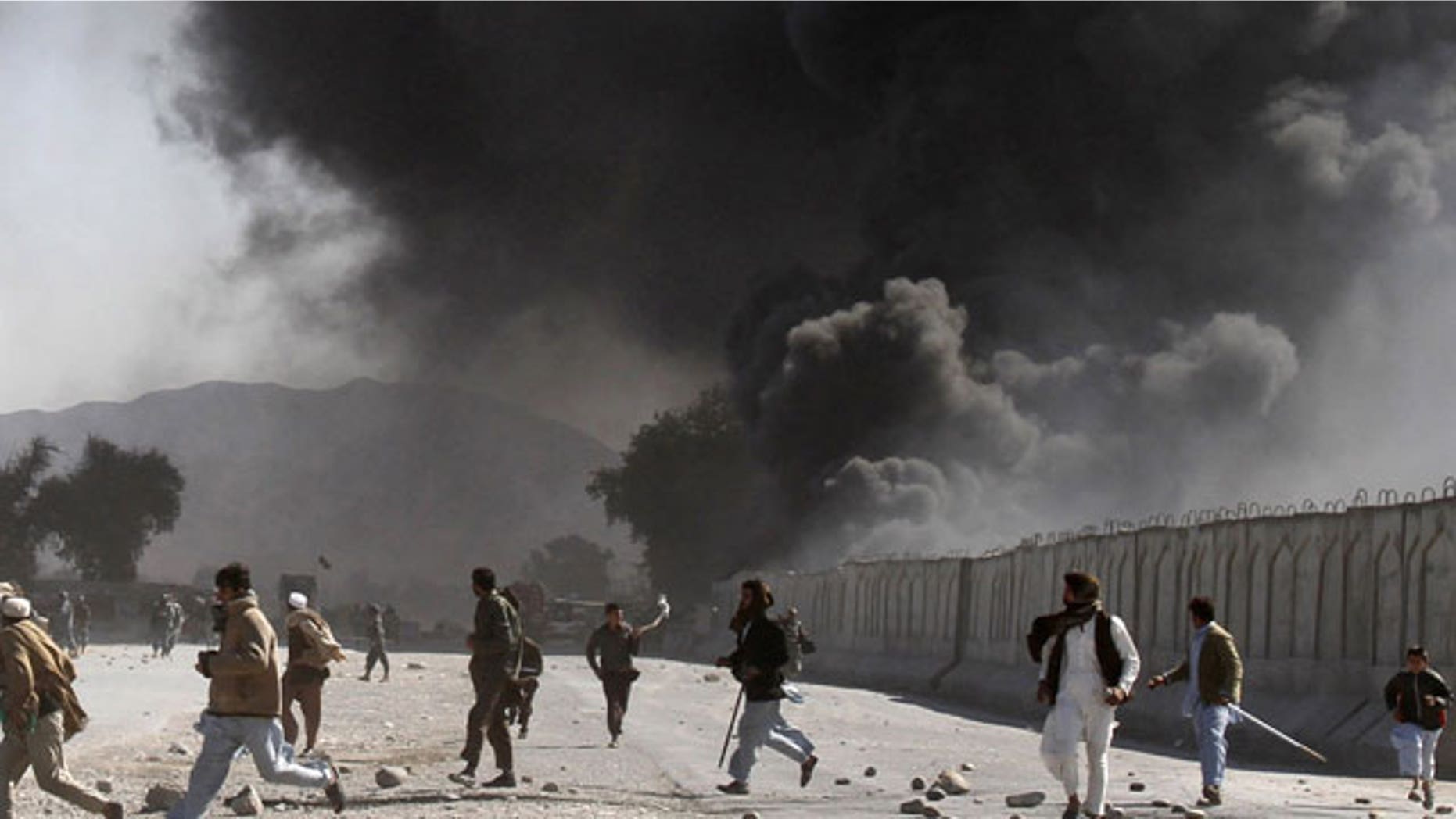 WASHINGTON – A trend of Afghan treachery that has taken the lives of six American troops over the past week is poisoning a key ingredient in the international coalition's formula for winding down the decade-long war: trust.
In the nerve-rattling setting of a conflict in which the enemy wears no uniform, it takes trust to work side by side with Afghans whose loyalties are hard to decipher and who sometimes turn out to be Taliban sympathizers.
It is difficult to gauge what it will take to rebuild a bond of trust after repeated instances of Afghan soldiers and civilians -- or civilians posing as soldiers -- turning their guns on American and other allied troops. At some point, it calls into question the viability of a military strategy that requires close teamwork with Afghan troops, although the Obama administration is adamant that it will stay the course in Afghanistan.
More U.S. troops have been killed in Afghanistan since Feb. 1 by their supposed Afghan allies -- six -- than in combat with the Taliban -- just two -- according to an Associated Press review of casualty data through Friday. Combat deaths typically are lower in the off-peak winter fighting season.
"There is something fundamentally wrong here," says Peter Mansoor, a retired Army colonel who was Gen. David Petraeus' executive officer in Baghdad in 2007-08. He said Iraqi troops sometimes betrayed their U.S. partners but not nearly to the extent seen recently in Afghanistan.
Administration officials insist there will be no backing away from working hand in hand with Afghan forces.
"If we can't train the Afghan national army appropriately, we're never going to be able to leave and we're never going to win," Jacobson said.
It's not just American troops who are getting killed by their supposed Afghan partners. Four French troops were gunned down by a rogue Afghan soldier on Jan. 20. Paris responded by immediately speeding up its planned withdrawal of combat troops. An Albanian soldier was killed in an attack by Afghan police on Feb. 20.
There has been no heightened clamor on Capitol Hill to withdraw from Afghanistan, but Rep. Frank Wolf, R-Va., has renewed his call for the White House to assemble a panel of outside experts to review U.S. strategy.
"Congress and the Obama administration need to wake up and realize that things are not going well in Afghanistan, and it has nothing to do with the capabilities of our troops," Wolf said on the House floor Thursday. It has to do with "Afghan security forces gunning down their American advisers," he said.
Wolf also is worried by the persistent problem of Taliban havens on the Pakistan side of the border.
Navy Adm. James Stavridis, the top NATO commander, said he sees no need to change course in Afghanistan.
"As I look at the broad sweep of our strategy there, I am convinced that we should continue with transitioning Afghanistan's security to the Afghans," he told a Senate panel Thursday. He called himself "cautiously optimistic" that the plan now in place with ultimately succeed in stabilizing the country.
In a separate appearance before Congress, Gen. Ray Odierno, the Army chief of stafe residents of Kalaupapa depend on this post office to receive vital medication and other health supplies, and to connect them with the rest of the world, including their families, friends and health care providers," said U.S. Sen. Daniel Akaka (D-Hawaii), who met with the residents about their concerns.
Mail is processed in Honolulu and then flown once a day to the Kalaupapa office, which serves the most isolated population of postal customers in the state. The Kalaupapa office is an example of other historical relationships the postal service has with remote areas, such as a Native American community in the Grand Canyon where mail is delivered by mule.
Two post offices on Oahu and one on Kauai remain on the list of possible closures. No decision will be made until May 15 at the earliest, Gonzales said. In December, the postal service instituted a moratorium on closing any facility prior to May 15 to allow for legislation that would help with financial and operational problems.
No post office will be closed without providing affected customers with alternate ways of accessing mail, Gonzales said.