World War II veteran 'adopted' by California couple after wildfires displace him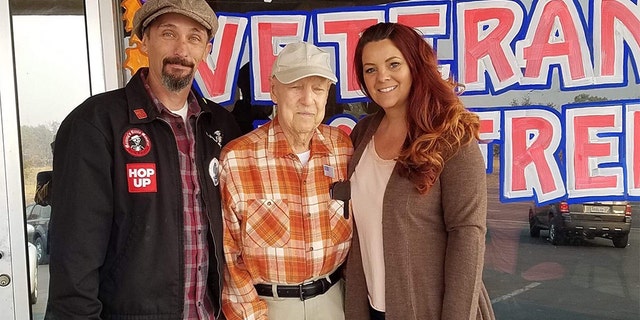 A World War II veteran displaced by the wildfires in Northern California has been taken in by a couple who he calls his "saviors."
Lee Brundige, 93, was standing in a parking lot in Oroville, 20 miles south of the fires, with other evacuees when he was approached by Tracy Grant, who was handing out food, InsideEdition.com reported.
Brundige told Grant that he was sleeping in his car. He also said she should save the food for someone who really needed it.
"My instinct was, 'He's not staying here another night by himself and I'm not taking him to a shelter and I'm not letting him go with another stranger, because there are people out there who take advantage,''' she told the website.
It was through her persistence that the vet finally agreed to come to her home, where she lives with her boyfriend, Josh Fox.
The couple doesn't know if Brundige's home in Paradise has been burned in the fires but they say he can stay with them "forever."
"These people are angels to me," Brundige said. "They bought me clothes and everything. I don't know how I'm going to thank them, but I'm going to try."
The death toll has risen to 56 as of Wednesday night in what has now become the state's deadliest wildfire. Officials say the fire has now burned 138,000 acres and is 35 percent contained. It has devastated nearly 9,000 homes and displaced 52,000 people.