World War II veteran, 88, receives Purple Heart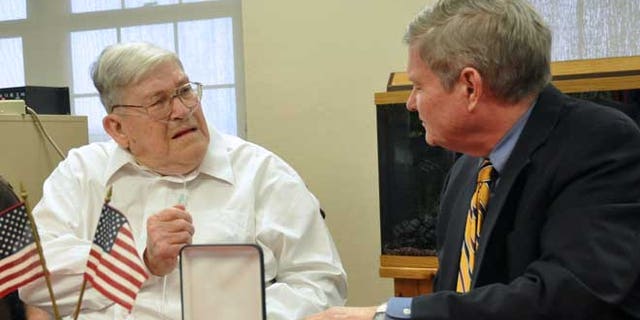 NEWYou can now listen to Fox News articles!
SIOUX FALLS, S.D. – As Army soldier Charles Bledsoe was being loaded onto a Jeep with a gunshot wound to the abdomen nearly 70 years ago, he heard someone say, "Give him his last rites."
"I looked around to see who that was getting the last rites," Bledsoe recalled. "I went, `The hell.' It was me."
Bledsoe recovered, but the April 19, 1945, wound was never recorded on his discharge papers so he hadn't received a Purple Heart. The oversight was corrected Wednesday, as U.S. Sen. Tim Johnson, D-S.D., presented the 88-year-old World War II veteran with a Purple Heart and Bronze Star during a ceremony at the Sioux Falls VA hospital.
"Thank you, senator, for getting it right," said Bledsoe, who moved to Sioux Falls after the war and now lives at the VA. "It's the first time it's ever been right."
Bledsoe, an Indiana native, hadn't really pushed for the medal until about a year ago when he tried to become a member of the Sioux Falls chapter of the Military Order of the Purple Heart. He was told he couldn't join the organization because he didn't have a Purple Heart, awarded to members of the U.S. armed forces wounded in battle.
"He heard about our chapter and he wanted to join, but (the battle wound) wasn't on his discharge papers," said Mark Williamson, commander of the group's Sioux Falls chapter.
So Williamson began researching records and working with Sen. Johnson's office to get Bledsoe his honors.
"Most of us have only read about or seen movies depicting the D-Day invasion, the Battle of the Hedgerows and the Battle of the Bulge," Johnson said. "Charles experienced them all firsthand."
The Purple Heart was created in 1782 as the Badge of Military Merit by George Washington, but was ignored for nearly 150 years until it was reintroduced in 1932 on the 200th anniversary of Washington's birth.
The nearly 2-inch-long medal features a gold bust of Washington on a purple background with a gold border, suspended from a white and purple ribbon. The inscription on back reads: "For military merit."
The Bronze Star, a 1 1/2-inch-wide star engraved with "heroic or meritorious achievement," hangs from a red ribbon with a vertical blue and white stripe down the center.
Bledsoe, who joined the Army immediately after graduating high school and served in Company F of the 273rd Infantry Regiment, said he now has a lot of military medals.
"Senator Johnson let me ask you a question, what am I going to do with all the medals?" he asked.
"You'll keep them," Johnson replied. "And when the time comes, as it will for all of us, we can hand down the medals to our kids and grandkids."