Woman dies after getting arm stuck in clothing donation bin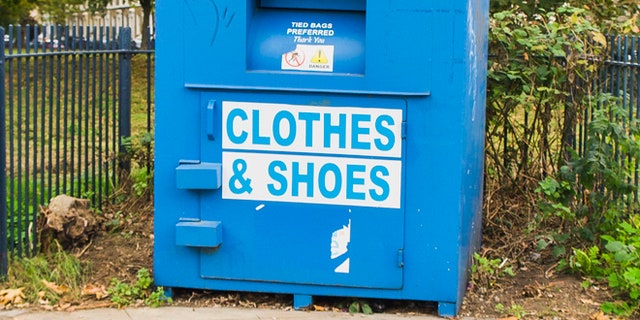 A woman in Pennsylvania reportedly drove up to a clothing donation bin in her Hummer and started pulling out bag after bag -- until her arm got stuck, and she had no way to free herself.
OREGON WOMAN DIES TREE UPROOTED BY HOMEMADE ZIP LINE FALLS ON HER
Hours later, she was dead. A combination of trauma injuries and hypothermia killed her, the coroner confirmed Monday.
The woman, 56-year-old Judy Permar, used a stool to reach inside the drop-off box Sunday in Natalie, PennLive.com reported. But according to the coroner's report, as Permar had her arm in the bin, the stool collapsed.
COPS SUSPECT NYC JOGGER'S KILLING MAY HAVE BEEN RACIALLY MOTIVATED
Crews found her dead more than six hours later. Her arm and wrist were broken -- and the Hummer was still running, police said.
The bags she'd removed held clothes and shoes, Mount Carmel Township police Chief Brian Hollenbush said.
The woman's son told WNEP his mom dropped off donations to clothing bins all the time, and always looked out for the less fortunate.
Hollenbush said he knew Permar, describing her as a very nice woman. "It wasn't something that I would expect to be seeing."
The village of Natalie is about 60 miles northeast of Harrisburg.
The Associated Press contributed to this report.