Washington state judge chases inmates, nabs one in attempted escape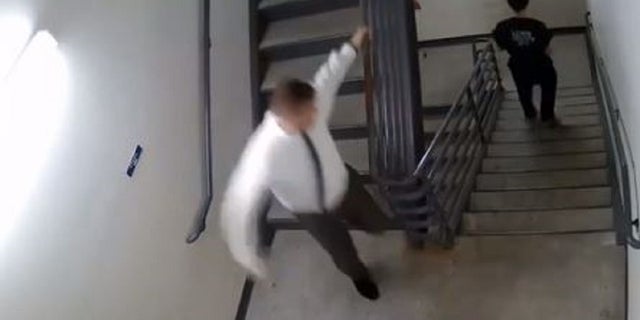 A Washington state judge sprang into action and removed his robe to chase two handcuffed inmates attempting to flee his courtroom, reports said.
Judge R.W. Buzzard lept from his bench on Oct. 16 when Tanner Jacobson, 22, and Kodey Howard, 28, bolted from his Lewis County courtroom in Chehalis, about 85 miles southwest of Seattle, authorities said.
"By the time they hit the door, I'm like 'there's nobody between them and the street,'" Buzzard told KOMO News. "So I wanted at least to find out where they were going."
The inmates were being escorted from court by a sheriff's deputy just before the alleged attempted escape. Instead of walking through an exit near the right side of the judge's bench, the suspects bolted for the door at the back of the courtroom, authorities said.
Both men ran down four flights of stairs when Buzzard grabbed Howard as he was about to exit the courthouse through an emergency door, authorities said.
"Once I got to the stairwell, I knew I was going to be able to catch the one that was just in front of me because I immediately started gaining on him," Buzzard said. "I was yelling at them all the way down the stairs to 'stop, you're making things worse.'"
Jacobson was caught by authorities a few blocks away.
Both men have been charged with second-degree escape.
"These things don't happen very often," said Sheriff Rob Snaza.
In April, Buzzard wrestled a litigant to the floor who had attacked an attorney.
"I found out at that time that grappling in a robe is very restrictive," he said. "I couldn't imagine what running down the stairs and being in a robe, so I got it off as soon as I could and went after him."
The Associated Press contributed to this report.