Vietnam hero's Arlington grave includes remains of unknown Southeast Asian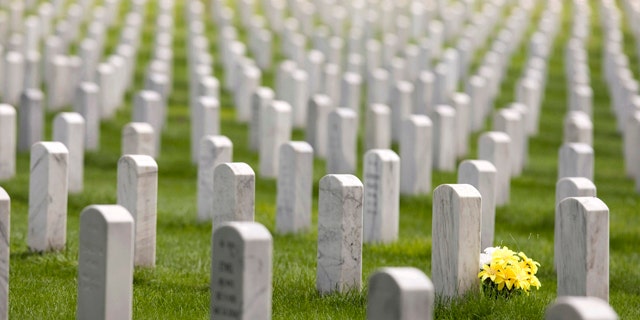 Arlington National Cemetery is the final resting place for more than 400,000 servicemen and women, as well as two U.S. presidents. Newly uncovered documents, however, reveal that the remains of an indigenous Southeast Asian are also interred on its sprawling grounds.
Stars and Stripes, citing internal POW/MIA documents, reported that when the remains of Chief Warrant Officer 3 William Smith Jr. were turned over to investigators in Vietnam in 1999, they were mingled with remains of someone other than the Army Reserve pilot. Documents indicated that the unrelated remains had been identified and segregated from Smith's and that only the pilot's remains were sent to Arlington for burial. But an internal memo from the Central Identification Laboratory obtained by Stars and Stripes showed that wasn't the case.
The fragment of a leg bone that should have been separated from Smith's remains had been "inadvertently included," laboratory anthropologist Gwen Guinan wrote in the memo, which was dated Sept. 20, 2000, 12 days after Smith's burial.
No details were immediately available on exactly how the error was uncovered or what protocol should have followed after the discovery, Stars and Stripes reports.
"That was a long time ago," the anthropologist wrote Stars and Stripes in an email. "Unfortunately, I am unable to comment."
Officials from several offices, including the Joint POW/MIA Accounting Command, declined to comment. Arlington Cemetery officials, meanwhile, said they received a sealed casket and followed proper protocol.
"According to our records, we received the remains of CW03 William A. Smith, Jr. in a sealed casket," Arlington spokeswoman Jennifer Lynch wrote to Stars and Stripes. "Arlington National Cemetery interred the sealed remains in Section 66, Grave 6129, and appropriately marked the grave with a government headstone, bearing CW03 Smith's name."
Smith's son, William Smith III, said his relatives were never informed of the mistake. A military review board ultimately pronounced Smith dead on Oct. 29, 1976, some eight years after the 23-year-old warrant officer piloted a UH-1D Huey helicopter on a mission over South Vietnam when it was struck by enemy ground fire as it approached the My Tho River.
"It doesn't make me feel real good, but that was 13½ years ago," Smith told Stars and Stripes, adding that he has no plans to tell his father's surviving relatives, who include the late veteran's brother and sister. "You bring up the word 'Vietnam' and they start to get upset. About something like that, I'm afraid they'd go ballistic."
The cemetery, according to a fact sheet posted on its website, hosts up to 30 funerals per weekday and between six and eight on Saturdays, or more than 7,000 services annually.