Vets work to save leg of dog hit by stolen van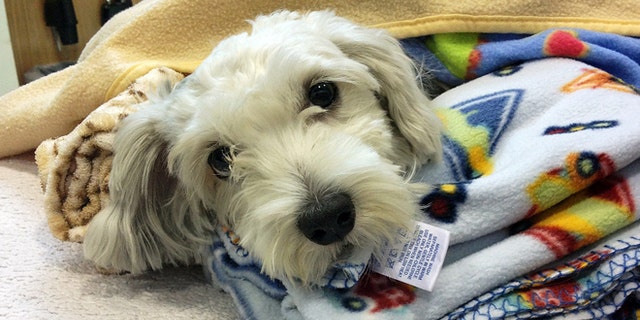 LOS ANGELES – Veterinarians on Thursday worked to save the leg of a fluffy white dog named Gordo who was run down by a stolen van during a wild police chase that was captured live by television helicopters.
The 1- to 2-year-old Maltese mix suffered a deep cut to a rear leg and a smashed hip Wednesday night.
On Thursday night he went through two hours of surgery as vets removed part of his hip joint and repaired the damage.
"Gordo is doing wonderfully, he was a rock star under anesthesia," said Annie Lo, one of the vets treating the dog. "We have to do a good, close neurologic exam on him tomorrow, just to make sure he's still able to move those legs."
Shannon Brown, spokeswoman at City of Angels Veterinary Specialty Center in Culver City said the vets "presented the owners with the options, which were to try to save the leg or amputate and they went for trying to save the leg."
Losing part of his hip shouldn't impair the little dog much and animals that undergo such procedures "are expected to be able to run, jump, play," Brown said.
The chase, which lasted more than an hour, began after authorities tried to stop a white Chevrolet Astro van that had been reported stolen.
At various times city police, Los Angeles County sheriff's deputies and the California Highway Patrol pursued the van as it blew through intersections, drove the wrong way in traffic and ran onto sidewalks.
Authorities bumped the car to make it spin out of control but it kept going. They also laid down a spike strip that blew the tires but the van rolled on in a shower of sparks.
A short time later, Gordo ran into a street in South Los Angeles and was struck by the van under the cameras of circling television news helicopters.
The van eventually was struck by a patrol car and stopped shortly after 9 p.m. in South Los Angeles.
After Gordo was hit, he apparently hobbled home where his owner found him cowering behind the toilet and took him to the vet hospital, where the bloody dog was placed in the arms of a worker and rushed inside.
"He is my family," owner Santos Son told KABC-TV.
It was "incredibly lucky" that Gordo didn't bleed to death, said Kim Carey, another of the vets treating him.
She told reporters that there was a slice up the dog's thigh, possibly caused by a bare tire rim, and there was no nerve damage and little bleeding. She said the hot rim may have acted to cauterize the wound.
"I haven't ever seen such a clean injury," Carey said.