VA administrator used doll photos to mock veterans' mental problems in email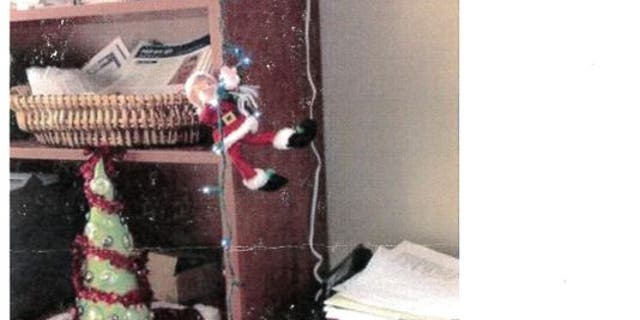 A social worker at an Indianapolis Veteran Affairs clinic was disciplined earlier this year after sending emails to colleagues that contained photos of an elf figurine posed to mock the mental health problems of combat veterans.
Robin Paul, who manages the Roudebush Veteran Affairs Medical Center's Seamless Transition Integrated Care Clinic, on Dec. 18 sent an email with photos showing an elf pleading for Xanax and hanging himself with an electrical cord, according to The Indianapolis Star, which broke the story. A spokeswoman for the facility, Julie Webb, said the matter was dealt with in January, but declined to say what action, if any, was taken.
"It is a slap in the face to our recent and past veterans suffering from mental health issues every single day."
"Management was made aware of the situation a month and a half ago and addressed it at the time," Webb told FoxNews.com. "Ms. Paul apologized. She has helped to build the clinic up and this was an error in judgment that does not reflect the Indianapolis Veterans Affairs' commitment to providing high-quality health care to our veterans."
Paul could not be reached for comment, but told The Indianapolis Star that she was sorry in an email the hospital's public affairs department sent on her behalf.
"I would like to sincerely apologize for the email message and I take full responsibility for this poor judgment," Paul wrote in the email. "I have put my heart and soul into my work with Veterans for many years. I hold all veterans and military personnel in the highest regard and am deeply remorseful for any hurt this may have caused."
One email, addressed to "IND STICC Team" and obtained by The Indianapolis Star, contained the subject line, "Naughty Elf in the STICC clinic."
"So, photos have appeared that indicate that the STICC clinic may have been invaded," it read. "Looks like this magical character made his way through a few areas."
One photo showed the elf giving a female doll a gynecological exam, and bore the caption: "Trying his skills as a primary care provider (doing a pap)."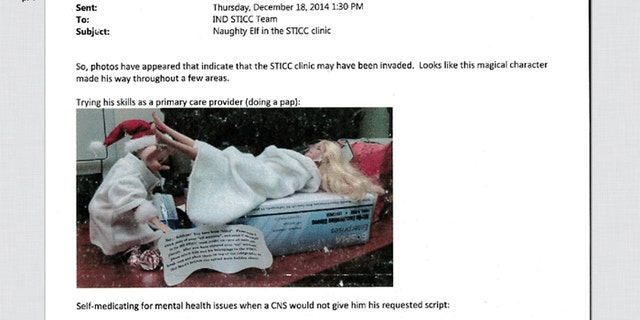 Another showed the elf next to a sticky note with the words, "Out of XANAX — please help!" That caption read, "Self-medicating for mental health issues when a CNS would not give him his requested script."
A third photograph showed the elf hanging from a strand of Christmas lights, with the caption: "Caught in the act of suicidal behavior (trying to hang himself from an electrical cord)."
News of the email is the latest in a series of black eyes for the massive agency, which has been under fire for facilities that altered their books to hide the number of patients who died while awaiting appointments.
The latest controversy drew outrage from veterans groups.
"It is a slap in the face to our recent and past veterans suffering from mental health issues every single day," Ken Hylton, commander of the Indiana Department of the American Legion, told the newspaper, adding that Paul should be fired.
Pete Hegseth, CEO of Concerned Veterans of America and a Fox News contributor, agreed.
"While this shameful act may be an isolated incident, what's not isolated are the almost daily reports that feed the perception that VA leadership are detached from the urgent challenges facing returning veterans," Hegseth said. "But it's even more troubling that Ms. Paul's shockingly poor judgment did not merit immediate firing. She should have been fired the minute such poor judgment was discovered and failing to do so only reinforces VA's track record of failing to hold its employees accountable."
Paul remains employed at the hospital and continues to manage the clinic, earning an annual salary of $79,916, according to the Star.