University of Texas System regents pick special ops commander as chancellor finalist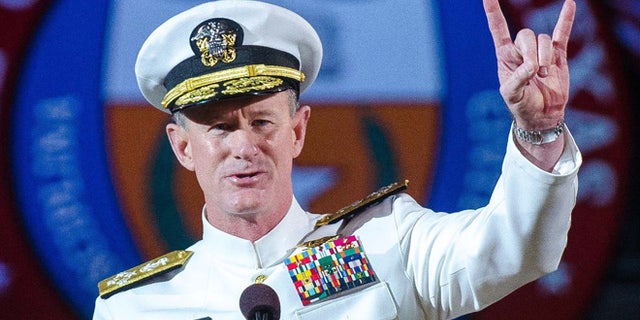 AUSTIN, Texas – University of Texas System regents on Tuesday selected one of the top U.S. military special operations leaders as the lone finalist for the job of chancellor, overseeing the system's 15 campuses and $14 billion budget.
Navy Adm. William McRaven, head of U.S. Special Operations Command in Tampa, Florida, has been credited with spearheading the operation that led to the death of Osama bin Laden in a raid on his compound in Pakistan in 2011.
"Admiral McRaven is a nationally and internationally respected leader and a true American hero," Board of Regents Chairman Paul Foster said after the unanimous vote to approve McRaven.
McRaven, 58, cannot be formally hired for 21 days. He would replace Francisco Cigarroa, the first Hispanic person to serve as Texas system chancellor, who is stepping down after five years.
Contract terms, including McRaven's salary, were not finalized, Foster said.
With nine academic and six health campuses, the Texas system has more than 215,000 students, about 90,000 employees. The chancellor's duties include representing the system in legislative matters, advocating higher education causes and raising money.
McRaven, who had previously announced his plans to retire in late August after 37 years in the military, would come to the chancellor's job with no professional academic experience. He is a graduate of the University of Texas at Austin and earned a master's degree from the Naval Postgraduate School.
Foster said the regents discussed McRaven's lack of higher education experience but decided he didn't need it. Foster said McRaven showed a "passion" for higher education and added that the regents decided "the chancellor's role was more one of management than academia."
What the regents will get, once McRaven's appointment is formalized in a final vote, is a military leader who since 2011 has commanded and overseen a 67,000-person, $10 billion operation and who has experience dealing with Congress and the White House.
McRaven, a four-star admiral, was also at the helm when Army Delta forces secured the release of Army Sgt. Bowe Bergdahl from the Taliban in May as part of an exchange for five Afghan detainees from the Guantanamo Bay, Cuba, detention center.
The son of an Air Force pilot and grandson of an Army doctor, McRaven grew up in San Antonio.
"I thank the regents for their trust and confidence in my leadership, and I look forward to this extraordinary responsibility with enthusiasm and pride," McRaven said in a statement released by the board.
Cigarroa announced in February he would return to his previous career a pediatric transplant surgeon at the University of Texas Health Science Center in San Antonio, where he was president for eight years before being name chancellor.
Cigarroa's tenure was notable for creation of the new University of Texas-Rio Grande Valley, a merger of the campus in Brownsville and Edinburg, which will include a medical school, and a new medical school at the University of Texas at Austin.
It was also marked by tension between him and Austin flagship campus President Bill Powers, who also clashed with several regents. Powers recently agreed to step down in June 2015 under a warning from Cigarroa that he could be fired.
Cigarroa's clashes with Powers and the turmoil between the regents and lawmakers have created a volatile atmosphere for the new chancellor.
Prominent alumni and donors had rallied behind Powers, who also enjoyed considerable support from lawmakers who set public university budgets.
And in a recent hearing before a state House panel, Foster told state lawmakers he considered it "offensive" for lawmakers to try to directly influence personnel decisions such as the hiring and firing of campus presidents.
The Texas Coalition for Excellence in Higher Education, which includes many of the top donors and alumni who supported Powers and clashed with regents, applauded the selection of McRaven.
"McRaven is a proven leader with a strong backbone and the courage of his convictions who will stand up for what is right and in the best interests of the people of Texas," the coalition said in a statement.