University of North Carolina denies in-state tuition to Iraq vet and homeowner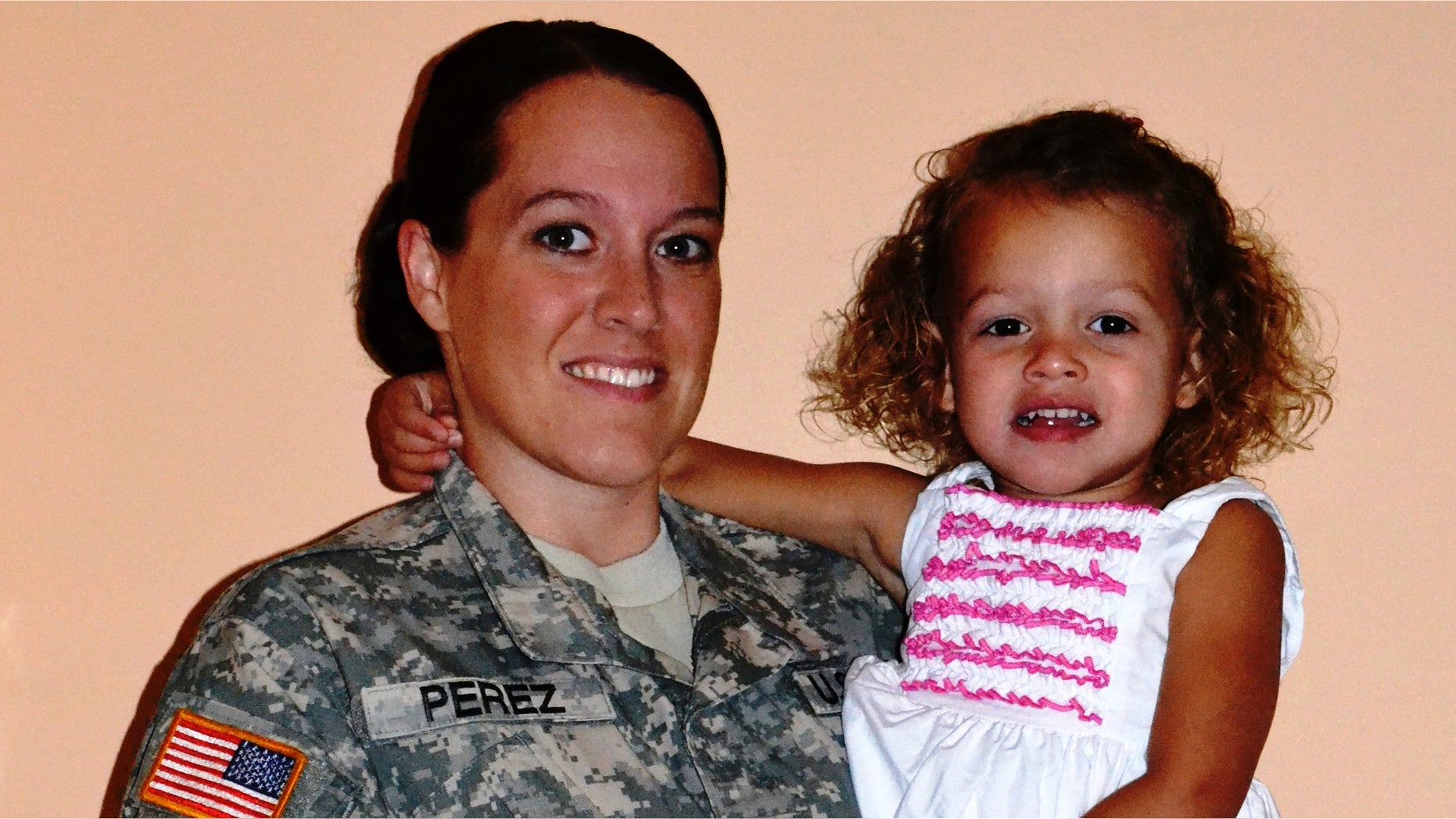 The University of North Carolina denied an Army sergeant in-state tuition at its Pembroke branch even though she owns a home in the Tar Heel state and only moved away briefly because the military stationed her husband in Texas.
Hayleigh Perez, 26, hoped to use her G.I. Bill to attend the UNC's Pembroke campus near Fort Bragg, but the young veteran — who served a 14-month tour in Iraq — was told she did not qualify as a state resident because she had been gone for about less than two years.
"I got frustrated. When I tried to inquire, they kept putting up roadblocks," Perez told FoxNews.com. "It's just disgraceful that life in Iraq, where you could die, is easier than trying to go to school here."
Perez enlisted in 2005, and was stationed in Fort Bragg before shipping out to Camp Bucca in Iraq. That's where she met her husband and fellow soldier, Jose Perez-Rodriguez. The pair married and, when their tours ended in 2006, bought their home in Raeford, N.C. They lived there until 2009, when Jose Perez-Rodriguez was assigned to a base in Texas. But they continued paying the mortgage and taxes on the North Carolina property while she stayed in Texas with him during his deployment until December 2011, she said.
[pullquote]
Perez was honorably discharged in September 2009, and, after giving birth to daughter Calleigh, and sought to build a post-military career. When her husband won a transfer back to Fort Bragg to rejoin his family, Perez started applying to colleges in the area in hopes of pursuing a master's degree as a physician's assistant. She told FoxNews.com she was accepted to both UNC's Fayetteville and Pembroke branches and chose Pembroke. But Perez was shocked when UNC-Pembroke officials told her she was not considered an in-state resident, even though the Fayetteville branch said she was. The G.I. Bill Perez hoped to use for school does not cover out-of-state tuition.
"I just figured I could appeal the decision," Perez said. "I thought it would be easy."
But Perez said the appeal process consisted of appearing before a 15-member panel at the school's vice chancellor's office, where her request was denied. She said she later learned that the denial was based on the fact that she had not paid income tax in North Carolina in the years in which she was in Iraq and Texas.
"The process was demeaning. They [Pembroke] treated me so poorly I felt like I was a criminal on trial," she said. "They told me I couldn't reapply."
Sgt. Jason Thigpen, founder and president of the Student Veterans Advocacy Group, which is helping Perez make an appeal to the school, said nearly 250,000 other student veterans nationwide have been forced to pay out-of-pocket while using their G.I. Bill due to "adverse and short-sighted changes our federal government made."
"In North Carolina alone there are more than 5,000 student veterans facing such hardship," he said. "That's not the deal we signed up for when joining the military, and surely isn't what was intended in the 1940s when [the G.I. Bill program] began," he added.
School spokeswoman Joni Worthington said the school is no longer considering granting in-school tuition status for illegal immigrants. A bill in the state Legislature that would bar schools from offering in-state tuition to illegal immigrants was introduced last year and remains stuck in committee after contentious debate within the academic community.
"The University complies with all applicable laws and does not treat undocumented students as residents for tuition purposes," Worthington said. "No change to that policy is being considered."
Under former UNC President Erskine Bowles, who left the post in 2010, the school appointed a 28-member commission of business, community and academic leaders to study the idea of in-state tuition for illegal immigrants, but no action was taken.
Worthington defended the school system's record of support for members of the military and said Perez was not denied her right to use her G.I Bill to pay tuition. She said it was a federal law that caps the program's tuition payments at public schools at the highest in-state tuition in a given state, but noted G.I. Bill users can use up to $17,500 at a private institution of higher education.
Perez, according to Worthington, was responsible for providing the documentation to support her claims for in-state residency and, after failing to, was given the opportunity to appeal the determination to a state committee, which upheld the school's rejection.
Perez, who started an Internet petition that has garnered support from across the country with nearly 120,000 signatures in just five days, and the Students Veterans Advocacy group intend to sue both the school and the federal government if the school's decision is not reversed.
"It's so much larger. This isn't just about me. It's for every veteran hitting these roadblocks," Perez said.
No matter what happens, Perez said she won't be attending UNC-Pembroke.
"I'm now attending a private college," she said, declining to name the school. "I don't want to be associated with an institution that treats veterans this way."
Editor's note: A previous version of this article indicated that the University of North Carolina system is currently considering in-state tuition for illegal immigrants. The proposal was studied, but no action was taken. The state legislature has not acted on a bill that would bar such proposals.