The Left has gun-toting militias of its own, Charlottesville lawsuit reveals
With a name like Redneck Revolt, one "paramilitary" group named in a lawsuit filed in the wake of the deadly Charlottesville protests sounds like the classic alt-right, gun-toting militia many blame for the August incident that sparked a national debate on race and guns.
But Redneck Revolt is a sometimes-armed militia that left-wing protesters have apparently started calling on for security, and critics say it represents a growing group of heat-packing, far-left social justice warriors who are "willing to take on personal risk to defend those in our community," according to the group's website.
The lawsuit, brought by The Georgetown Law Institute for Constitutional Advocacy and Protection (ICAP), could shine a light on groups like Redneck Revolt by lumping them in with not only admitted fascist groups like Vanguard America, but also the conservative militias whose leaders say they came to safeguard participants in the Aug. 11 Unite the Right rally that exploded into violence.
"All it takes is one jumpy person pulling a trigger."
Many fear the bitter climate surrounding race, free speech and politics, combined with the presence of guns, is creating a combustible situation – and the potential for deadly violence to break out at events featuring protesters, counter-protesters and self-appointed amateur armed guards.
"If you get into an arms race with a bunch of scared people who have little or no experience of gun violence—I'm talking about antifascists as well as the alt fascists, we're scared too—you're creating an extremely volatile situation," a counter-protester who claimed to have been at Charlottesville told the website CrimethInc. "All it takes is one jumpy person pulling a trigger."
The more prominent defendants targeted in the suit include Unite the Right organizer Jason Kessler and a handful of fascist groups that attended. But ICAP is also taking aim at left-leaning paramilitary organizations that turned out that day, militias that claim their members were only on scene to keep the peace.
"Private armies" caused "irreparable and incalculable injuries" to the city as well as various local businesses and neighborhood groups, the lawsuit claims. Damages include loss of revenue and a general negative association with businesses in the city, the plaintiffs argue. The suit suggests these "unauthorized" militias undercut the local government's "authority to protect public safety,"  and aims to "prevent defendants from returning to Virginia organized as military units and engaging in paramilitary activity."
Redneck Revolt and other armed militias that were present say they were keeping the peace – regardless of who they were defending. Christian Yingling, a defendant and commanding officer of an organization called Pennsylvania Light Foot Militia, argued in a lengthy Facebook post that his group, which he said was there to provide security for Unite the Right protesters, coordinated with the Charlottesville Police Department prior to the event.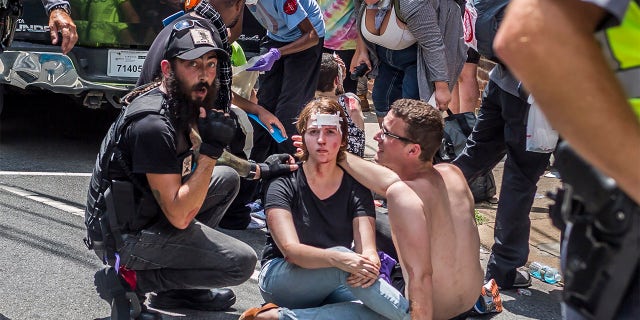 Not only did police know they were coming with weapons to defend participants, Yingling wrote, police "escorted us personally to the park... the Charlottesville police told us it was perfectly fine for us to be there, and perfectly legal for us to be armed." The Charlottesville Police Department did not immediately respond to requests for comment.
New York Light Foot militia commander George Curbelo, also named in the suit, posted a photo to Facebook that he said proves his militia was escorted by members of law enforcement, and that his group was "in Charlottesville as a neutral, non-violent group." No one seems to be disputing that members of groups like The Light Foot militias, the Virginia Minutemen and Redneck Revolt were legally carrying firearms. The dispute is whether they made things safer, or more dangerous.
Members of Redneck Revolt have said they were sought by counter-demonstrators to provide safety. Yet, the group's relationship to the left-wing protesters appears to be absent from ICAP's suit.
"Just as they had anticipated and indeed desired, these [white-nationalist] groups encountered significant resistance from counter-protestors within the so-called Antifa and other movements," the lawsuit states. It goes on to suggest that those counter-protesters "fought back with comparable intensity, though without the hallmarks of private armies that characterized the Alt-Right Defendants' contributions to the day's violence."
While there is no evidence of any Redneck Revolt members being involved in violence, the lawsuit's suggestion that the left was without a private army of its own - especially since Redneck Revolt is named as a defendant – seems a glaring omission.
Redneck Revolt's website describes it as "a pro-worker, anti-racist organization that focuses on working-class liberation from the oppressive systems which dominate our lives," inspired in part by violent abolitionist John Brown.
The mission statement goes on to say, "In states where it is legal to practice armed community defense, many branches choose to become John Brown Gun Clubs, training ourselves and our communities in defense and mutual aid."
Redneck Revolt boasts more than 40 chapters nationwide, and various branches have reported membership increases since the Charlottesville incident. Attempts to reach the group's communication arm were unsuccessful.
One member of Redneck Revolt, who was not in Charlottesville and asked not to be identified, told Fox News "we're not Antifa... we're not going to be hitting people." Yet at rallies including one in Phoenix earlier this year, members have threatened the property of people who merely attempt to video or photograph them.
Like some of their conservative counterparts, Redneck Revolt has apparently captured the attention of the FBI. According to one law enforcement source, warnings have been distributed to agencies across the country regarding their group and others.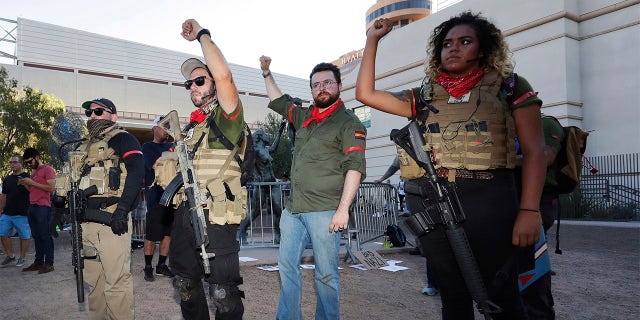 In an e-mail to Fox, a spokesperson for the FBI's national press office suggested they couldn't comment on the existence of such a bulletin, before adding that the bureau "does not track membership in domestic extremist groups as membership in a group is not illegal… The FBI may only initiate an investigation based upon information or allegations that an activity constitutes a federal crime or a threat to national security."
A self-described Redneck Revolt member who said he was in Charlottesville for the protests told the "Feminist Killjoys, PhD" podcast that while there may be historical parallels with organizations like the Black Panthers, the presence of "armed leftists on the streets of an American city [preserving and protecting] human life... was kind of a historical shift."
In a podcast on Redneck Revolt's website, another alleged member who was on the ground in Charlottesville admits that the use of firearms was a point of serious debate, but that "when we came up to the day, the extremity of the situation was realized by all involved."
"I don't think it's ludicrous that if white supremacists are carrying guns that anti-fascists might want to carry guns, too."
"Folks realized that there needed to be armed security because the fascists were absolutely coming in swinging," he said, adding that members were showered with gratitude by the protesters they came to defend.
Left-wing groups carrying legal guns at demonstrations have is a notion that's seeing some support in academia.
"I don't think it's ludicrous that if white supremacists are carrying guns that anti-fascists might want to carry guns, too," Mark Bray, a visiting Dartmouth professor and author of "ANTIFA: The Anti-Fascist Handbook," told a New York gathering in September.
Dwayne Dixon, who is listed as a faculty member on the UNC Chapel Hill Asian Studies Department, is allegedly a member of Redneck Revolt, and was arrested in August for bringing a gun to a public place in anticipation of a white supremacist rally in Durham – an event that never wound up happening.
Dixon did not respond to Fox News requests for comment. But in an interview with a local newspaper, he said he acted out of "real concern" about "a kind of tone that I had never heard by citizens of this city." He added that he was not trying to "play Rambo."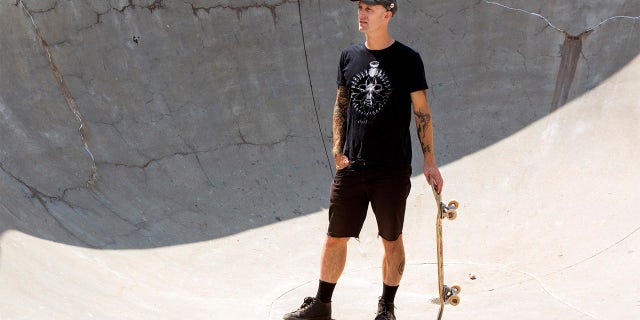 ICAP's lawsuit doesn't attempt to separate militia groups by their alliances, saying all of the armed groups "terrified local residents and caused attendees to mistake them for authorized military personnel."
Richard Cohen, president of the Southern Poverty Law Center, a group often derided for harboring a bias for left-wing groups, reportedly also disagrees with the tactics of armed militias.
"We just don't need volunteers with guns coming to public rallies," Cohen said in an interview. "It's a recipe for disaster."