The Latest: Interrogation is focus of trooper slaying appeal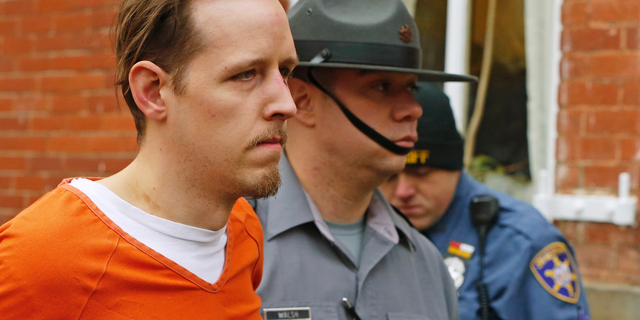 NEWYou can now listen to Fox News articles!
HARRISBURG, Pa. – The Latest on an appeal by a man convicted of the ambush slaying of a state trooper (all times local):
11:10 a.m.
Pennsylvania's highest court is considering whether state police violated the rights of a man convicted of killing one trooper and badly wounding another when they interviewed him after a 48-day manhunt.
The state Supreme Court on Thursday heard a defense attorney for Eric Frein argue it was improper for investigators to continue questioning him after he declined to waive his Miranda right to remain silent.
The prosecutor says Frein's statement telling investigators he didn't want to talk about crimes was ambiguous, as he told them where he'd buried rifles in the woods and said that the 2014 shooting death of Cpl. Bryon Dickson meant "a father didn't come home."
Frein is on death row for the ambush slaying. He's seeking a new trial.
___
12:10 a.m.
A man on death row for killing one Pennsylvania state trooper and wounding another to act out his anti-government beliefs is asking the state Supreme Court to throw out his conviction.
Lawyers for Eric Frein and Pike County prosecutors are scheduled to argue Thursday before the justices in Harrisburg.
It's been more than three years since the killings and subsequent 48-day manhunt in the Pocono Mountains.
The 35-year-old Frein is convicted of killing Cpl. Bryon Dickson II at the Blooming Grove barracks in September 2014.
He also wounded Trooper Alex Douglass so badly he's needed at least 18 major surgeries.
Frein's lawyers argue interrogators violated his right to remain silent and should have permitted him to speak with a defense lawyer the night he was captured.