Texas university pro-life students say banners promoting programs stolen five times in last year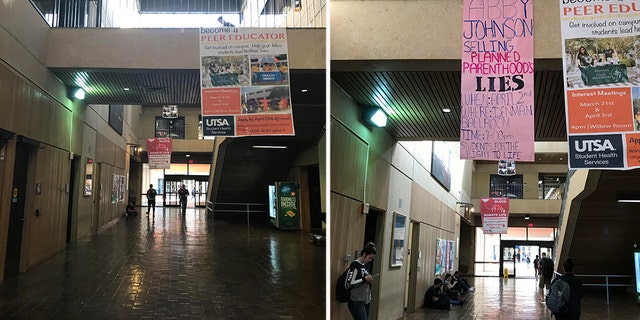 NEWYou can now listen to Fox News articles!
Pro-life students at University of Texas at San Antonio noticed their banner promoting an upcoming speaker had been stolen Friday – for the fifth time in the last year.
The UTSA Student For the Right to Life invited former Planned Parenthood worker, Abby Johnson, to speak on campus Monday night and had been promoting the event with the poster for one week.
"Abby Johnson: Selling Planned Parenthood Lies" the banner read in part.
The pro-life group reported the incident to campus police, and condemned the theft of the university-approved sign in the McKinney Humanities Building on campus.
Johnson spoke Monday night as planned, which the group live-streamed on Facebook.
UTSA Students For the Right to Life President Sean Gillen said he hoped whoever took the sign would have attended Johnson's talk and listened to her.
"The fact that are signs are being taken means people are reading them!" Gillen said in a statement. "Everyone is welcome at our events no matter what you think of the pro-life position. Instead of taking our signs down, come talk to us!"
The group reported that five signs have been taken down from the group over the last year.
Kristan Hawkins, the president of Students for Life of America, is calling on the school to fully investigate the situation.
"The theft showcases that the pro-abortion groups have no real case to make," Hawkins said. "They have to resort to crimes to prevent others from making their points. ​But the pro-life generation will not be silenced. We are so glad to see our students fighting back against the anti-free speech actions at their school."
"As a registered student organization, this group is permitted to display banners promoting its campus events. Their unauthorized removal runs counter to UTSA's culture of inclusiveness, respect and civil discourse in which differing opinions are valued for how they teach tolerance and prepare students to be global citizens," the university's spokesman Joe Izbrand told Fox News.