Teen driver survives trapped in wrecked SUV for 18 hours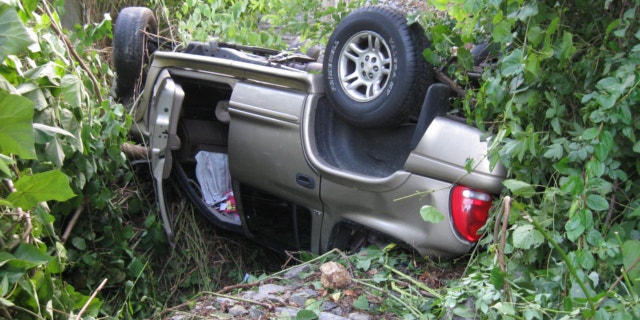 An 18-year-old Pennsylvania woman was trapped in her wrecked SUV for nearly 18 hours before a man spotted the vehicle from his home.
PennLive.com reports that Brooke Spence was pinned in the driver's seat of the overturned 2002 Dodge Durango after the vehicle flipped and fell into a culvert late Saturday.
Officers in West Hempfield Township told the newspaper that the vehicle flipped over onto its roof, where it remained until rescue crews extracted Spence from the vehicle.
Brad Shearer told LancasterOnline.com he came to Spence's aid Sunday afternoon after noticing something shining in the brush near a creek by his house.
"I saw a pair of eyes looking at me," Shearer told the newspaper. "She was lying on her back, with her head tilted over, looking at me."
After having his wife call 911, Shearer said rescue crews arrived within minutes. Spence reportedly told him she had screamed for help at one point.
Spence was in serious condition Monday in the trauma unit at Lancaster General Hospital, according to the report.
Police on Monday credited Shearer with saving Spence's life.
"I think it's great that he did what he did," police Sgt. Russell Geier told LancasterOnline.com. "That's a long period to be trapped in a vehicle, with serious injuries."
Click here for more from PennLive.com.