Southern California HS football game sparks race debate, fans asked to stop chanting 'USA! USA!'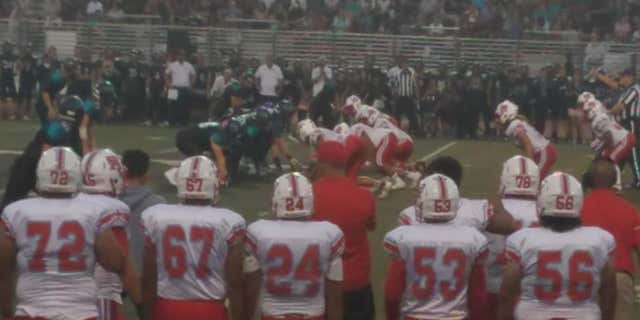 NEWYou can now listen to Fox News articles!
An Orange County high school principal claimed that his school's football team faced racist posters and chants on Friday during a game that was supposed to honor the victims of the Sept. 11 attacks.
Jeff Bishop, the principal of Santa Ana High School, told The Los Angeles Times that his school's players faced insensitive signs that included, "Build the wall."
His school has a student body that is almost 99 percent Latino, the report said, and he claimed in a Facebook post that his team recieved a "racist welcome."
The Orange County Register reported that Bishop later acknowledged he could not clearly see some of the signs but said "there was something about Trump. That alone made me think, 'What is this, a football game or a political rally?"
Deni Christensen, the principal from Aliso Niguel, said two signs were removed, one that read, "We're going to Trump you," and "Bring back Obama." She said that they did not see the border wall sign.
Christensen told CBSLA that Bishop approached Aliso Niguel's sidelines after the first quarter and, "reported that his students and fans had seen the sign referencing President Trump before the game, and a sign that said "We love red, we love white, we love blue," along with our students arriving dressed in red, white and blue, and he felt that the entire atmosphere was inhospitable to his school and community."
Christensen posted late Monday on the school's Instagram account that she "reiterated regret over any perceived disrespect," but assistant principals were at the game and at no time witnessed any "overt racism." They reported a political banner that read, "Trump 2020," which was removed.
"I am deeply saddened that anyone could categorize our students or community as 'racist' and I have made that very clear. We have nothing but respect for Santa Ana high School, and all schools."
Aliso Niguel's student body is 56 percent white and about 19 percent Latino.
Bishop posted his concerns on Facebook after his school lost 42-21. Fox News reached out to Bishop on Facebook and did not immediately receive a comment.
Bishop told the Register that Aliso Niguel's fans chanted "USA! USA!" after their team scored its first touchdown.
"They're chanting 'USA' like it's a game against another country, like it's against Germany or against Mexico," Bishop told the paper.
Bishop reportedly threatened to pull the team off the field after halftime if the chanting continued.
"I told her 'You're playing Americans. You're playing 'Dreamers,' I don't understand the USA pride thing when you score. And if I hear it one more time, I am walking off the field with the team," he recalled to The Register.
He said on Facebook that the conversation appeared to help and the game "became more about football, athleticism and a healthy competition between two high school football teams."