Shoe bomber co-conspirator unsure if he will testify in NY in Abu Hamza trial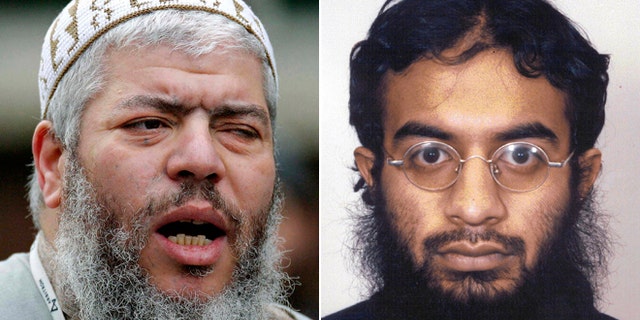 NEWYou can now listen to Fox News articles!
In a pretrial hearing Friday, Saajid Badat, the co-conspirator of "shoe bomber" Richard Reid, told NY Southern District Judge Katherine Forrester that he will seek legal advice in determining whether to fly to New York to testify in the April 14 trial of radical Muslim cleric Abu Hamza al-Masri.
Badat, who lives in the United Kingdom and has an indictment hanging over him in the United States, says he wants to participate in the trial, but does not want to come to the U.S.for fear he will be arrested.
Since 2004, Badat has been cooperating with British and U.S. authorities in a variety of high-profile terrorism cases in exchange for early release from a long prison sentence.
Usama bin Laden had directed him to board a plane with a bomb hidden in his shoe, which he was to detonate in midair as part of a choreographed attack against America. However, unlike Al Qaeda member Richard Reid who tried to blow up his shoe during flight, Badat never boarded his plane.
At Friday's hearing, Abu Hamza, sporting dark blue prison-issued pants and a short-sleeved shirt that exposed his amputated arms, watched in silence as Judge Forrester told Badat via a closed circuit video link between the courtroom and an undisclosed location in the U.K. that she wants him to testify in person and if he refuses, she may decide to leave him out of the trial altogether.
Badat testified via video link in the recent trial of Usama bin Laden's son-in-law, Abu Ghayth, and in the terrorism trial of Adis Medunjanin, a Queens man tied to a plot to blow up New York subways.
Forrester told Badat that he and his legal adviser should consult with U.S. authorities to determine whether he can be issued bail in the event that he is arrested upon entering the United States to take part in Hamza's trial. He has until next Thursday to make a final decision.
Dubbed "Captain Hook" in the media, Abu Hamza lost both his hands and an eye fighting the Russians in Afghanistan. He uses a metal hook on his right hand, which the court orders him to remove during hearings for security reasons.
Tremendously popular among jihadists, he is known for his fervent support of Al Qaeda and fiery hate speeches against Jews, Christians and the West. He faces 11 terrorism charges spanning the United States, Europe, Asia and the Middle East, including a 1998 attack on tourists in Yemen that killed four people.
He is considered so dangerous that prosecutors have argued jurors should be given anonymity and an armed guard for their safety. The NYPD announced that it will be on high alert for potential terrorist attacks during the trial, which coincides with the Jewish holiday of Passover.