Senators Deny Army Leaders, Re-Evaluate Helo Plan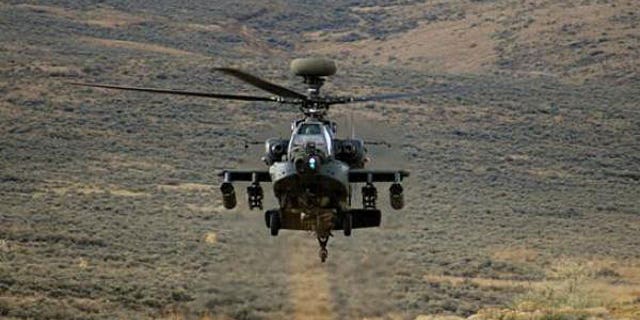 NEWYou can now listen to Fox News articles!
A Senate subcommittee has defied the Army's top leaders by supporting the creation of a commission to study the service's plans to transfer attack helicopters to the active component from the National Guard.
The Senate Armed Services Committee's Airland Subcommittee on Tuesday approved its part of the annual defense bill that would boost helicopter funding while creating an independent commission to review the service's plans to restructure its aviation assets, according to its chairman, Sen. Richard Blumenthal, D-Connecticut.
"This proposal is near completion and agreed on in compromised form and we expect that in the next hours or days we will have a final version," he said during a hearing to amend, or mark up, its portion of the National Defense Authorization Act for Fiscal Year 2015, which sets policy goals and spending targets for the year beginning Oct. 1.
Army Secretary John McHugh and Chief of Staff Gen. Raymond Odierno and other leaders have opposed calls for a national commission, which they said would only delay their ability to deal with automatic budget cuts known as sequestration.
"We believe that such a commission in unnecessary," Odierno said last month during a congressional hearing. He later described the issue as a "family spat" over money.
The Army estimates it will save $12 billion over several years by retiring its fleets of OH-58D Kiowa Warriors, OH-58A/C Kiowas and TH-67 trainers, and using AH-64 Apaches for the armed scout and reconnaissance mission instead.
Because the service can't afford to buy more attack choppers to do both missions, it would transfer the Guard's entire inventory of 192 Apaches to the active component. In return, the Guard would receive 111 UH-60L Black Hawk utility helicopters from the active component.
In addition to Apaches, the Guard would lose 30 OH-58Ds. Under the original plan, the Guard would have also given up as many as 104 UH-72 Lakotas. But that has since been revised, and the active component now plans to purchase those helicopters instead. In all, the Guard will lose 222 aircraft and get back half that amount -- a reduction that has drawn resistance from Guard leaders.
"As we look to 2023, and with the fiscal realities we're facing, I mean, who would not want an independent look?" Gen. Frank Grass, chief of the National Guard Bureau, said at the same hearing at which Odierno testified.
The Guard has already begun taking steps to relinquish its fleet of Apaches, officials said earlier this month at the Army Aviation Association of America's annual conference, known as Quad A, in Nashville, Tennessee.
"The decision's been made to move forward," Brig. Gen. Michael Bobeck, special assistant to the director of the Army National Guard, said during a panel discussion. "We're working through the mechanics of implementation and execution."
A provision in the House Armed Services Committee's version of the annual defense bill -- approved earlier this month -- would block the Army from re-distributing "important Guard aviation assets" next year to allow lawmakers and the Government Accountability Office, the investigative arm of Congress, more time to study the issue, according to a fact sheet highlighting parts of the legislation.
The Senate bill, meanwhile, would also increase funding for the Army to buy more UH-60M Black Hawks and light utility helicopters "in support of the Army and Army National Guard's requirements under the Aviation Restructuring Initiative," Blumenthal said. It would also include money for the Army's Apaches and CH-47 Chinooks "that have proven so critically important to operations in Afghanistan and around the world," he said.
The full Senate Armed Services Committee is expected to begin debating the defense legislation in a closed session on Wednesday.
-- Brendan McGarry can be reached at Brendan.McGarry@monster.com.